No lie, mostly only managed to do this to check if SE were assholes and put spoilers for Shit Past Episode 7 in here. (Verdict: no, surprisingly.)
Aight, Episode Shirtless Wonder, let's do this.
Yeah, he ran off because he was upset about Ravus having a daemon arm and being able to throw him around. Gladio, he was cheating, don't worry about it.
oh no they're all sitting around the campfire being happy and together and nothing is awful yet and Noct is okay and Ignis is fine Prompto doesn't have that CRIME AGAINST HUMAN DECENCY pasted to his face,
honest to god, boy
, and sdhfjlk;ldlkajsfkg I'm gonna just. Die. Right here. I'm just dead now. It's fine. Goodbye.
I don't know why I accepted this tutorial, combat's exactly the same as in Chapter 13.2.
OH NO the loading screen was too fast and I didn't get to finish reading about the Tempering Grounds. Thanks a lot, game, finally loading quickly and it's when I don't want you to.
MOAR POWER. Gotta get it!
Cor's not even looking at us, he's really angry at that coffee. Must not be very good.
yo what there's fucking DUDES PINNED TO THE WALLS in here, Greg, this is kinda fucked up, man.
Gilgamesh's name is Greg, btw. It's a XIV thing. It would take a long tangent to explain. Just trust me here, okay?
I like Cor. I wish we'd got to see more of him in XV.
Is it me, or is he missing an arm. This is like. The opposite of previous Gregs.
HE'S CALLING YOU A LOSER, GLADIO.
Glad to see Gladio brought some cup noodles along. Not sharing with Cor, though? Rude, man.
Oh, maybe he did. "That was much more than a soup." Cor, have you... not had cup noodles before?
Poor Cor the Immortal. Doomed to not even be killed by the undead dude who kills the weak.
THUNDER BOMBS?! MOTHER FUCKER.
Bye, Cor. It was nice to see you again.
Oh, you weren't gone long, never mind. HI AGAIN COR.
Oh, yeah, there's a second thing of noodles, it was just obscured by the text box before.
Wait a second. Prompto, was your later look inspired by Cor?
What good is a shield without no one to protect? IDK MAN *coughs awkwardly* AND I'M DEINITELY NOT WORRIED ABOUT HAVING LEFT THOSE OTHER THREE ALONE.
I'm actually not, though, because chapter seven was pretty good once we got past the gross man.
What's that thing flying around over there. Not a mob I recognize, though I suppose it could just be because it's flying and I'm looking down at it, rather than up.
There's a bunch of them, now that I'm looking.
(NOT PICTURED WELL AT ALL: THE FLYING THING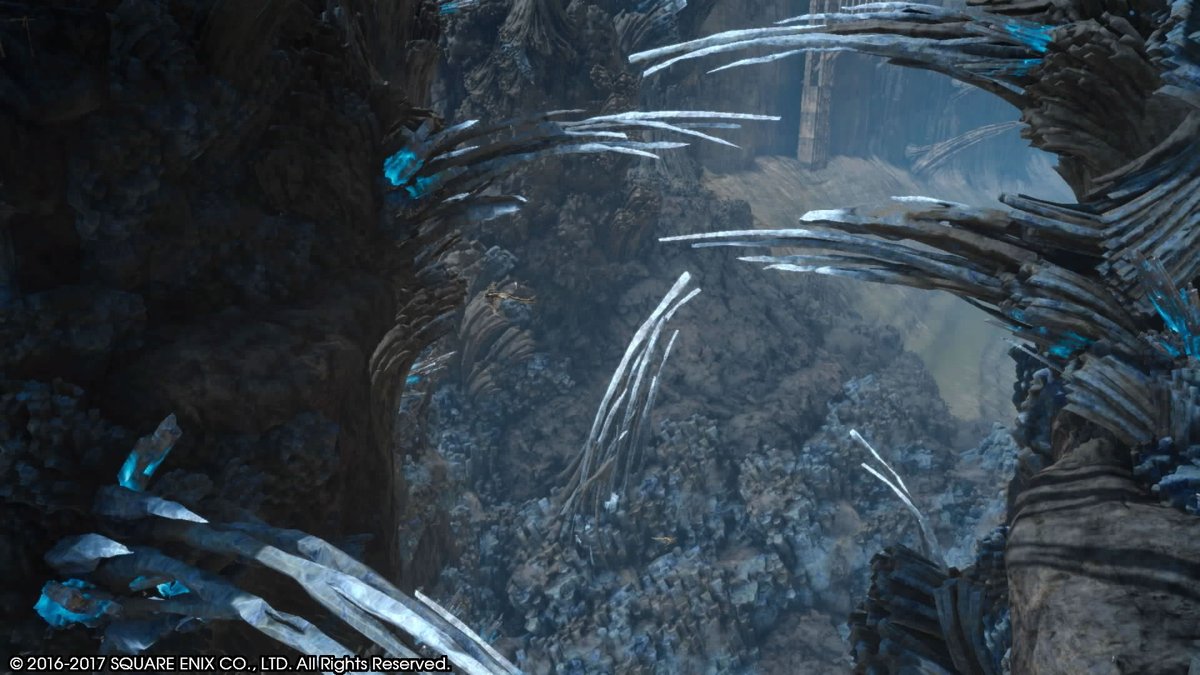 )
I CANNOT BELIEVE YOU JUST PULLED A PILLAR OUT OF THE GROUND AND SMASHED WYVERNS WITH IT, HONESTLY, NO RESPECT FOR THIS PLACE.
I don't think I can put this thing down again.
Um.
Oh, good, there we go.
oh geez it's a griffin on fire
Oh, no, it's Enkidu. YOU AREN'T LOOKING SO GREEN, ENKIDU.
OW, BY THE WAY. Shit, that guy hurt.
Cup noodles very visible from this angle.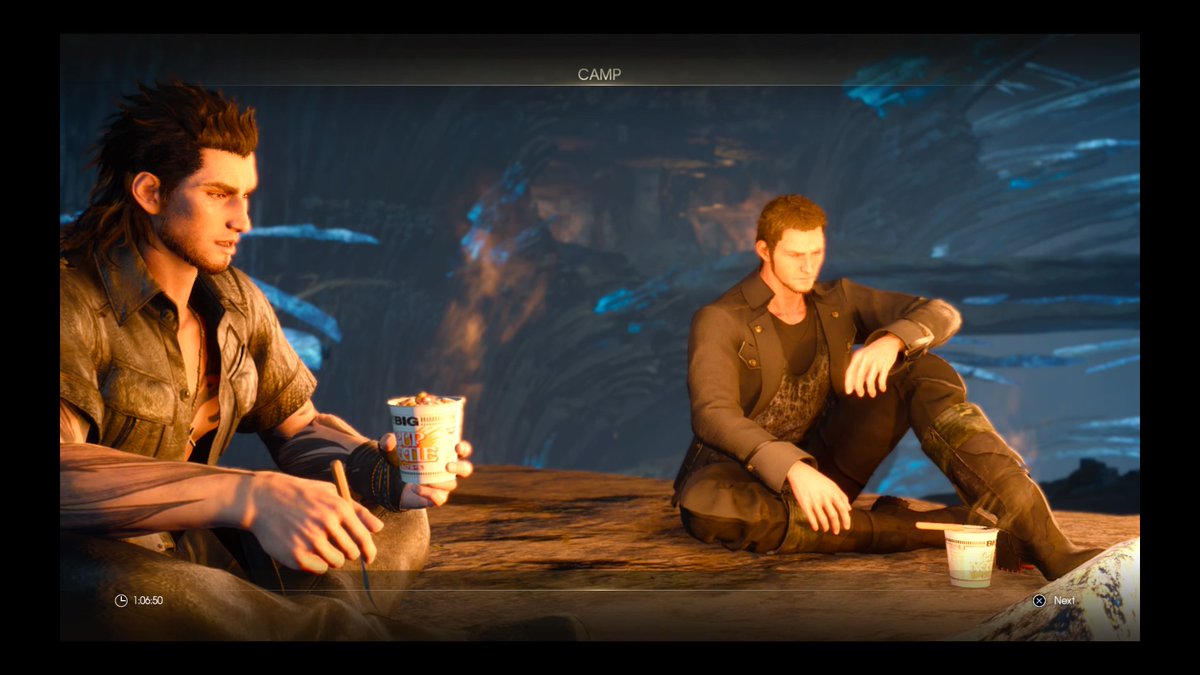 You're damn right I wanna know. CHAT, CHAT, CHAT, CHAT.
NOT A VERY GOOD CHAT, 2/10, DISAPPOINT.
Eewww, demon wall.
Or is that one of those wolf-things from chapter 14? I dunno, I didn't stop to take a close look.
Y'all, I can't flipping play this game when I don't have warp capabilities.
They're talking 'bout you, Cor.
Hm. Got thrown out on his face but his sword has power over the rocks, sooo.... Guess he must've got
something
out of it.
TWO souvenirs, kid. You're gonna get two.
BYE AGAIN COR.
I LIKE THE LOCATION OF THIS THOUGH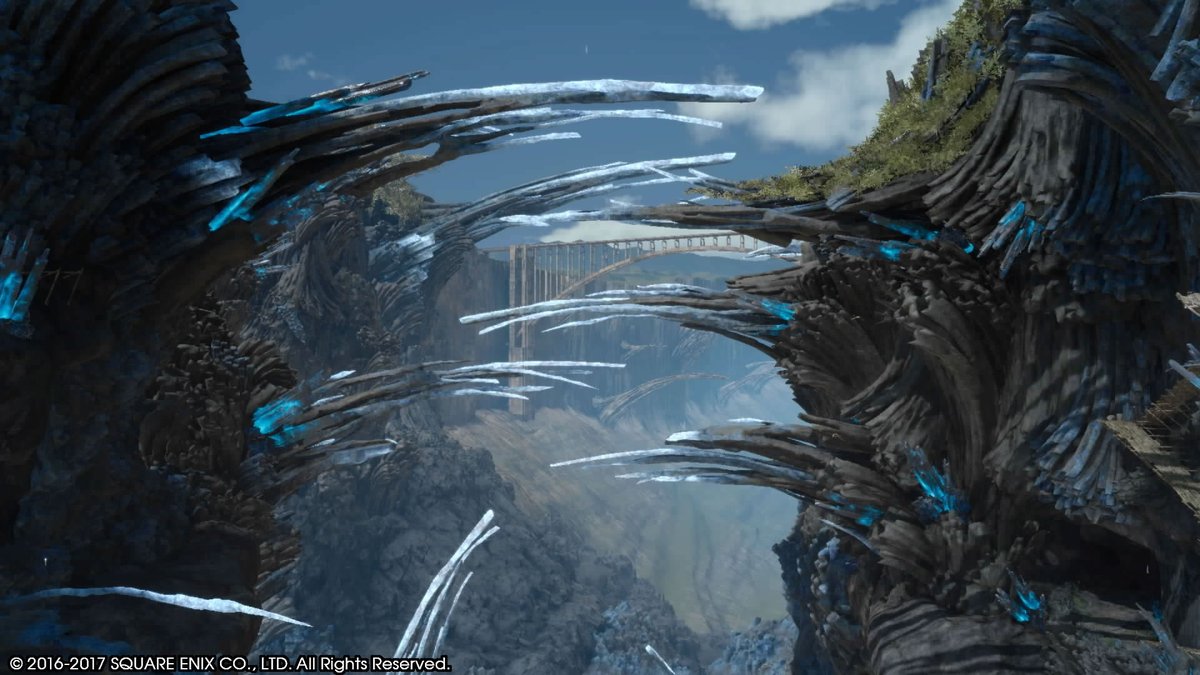 Dang, this is a lot of swords.
Huh, he's been way easier than Enkidu was.
Ah, round two. NOW WITH BOTH ARMS.
shiiit that hurt and then HE IMMEDIATELY KO'D ME AGAIN, THANKS, MAN, I AM OUT OF PHOENIX DOWN NOW I really hope there's not a round three because GLADIO I SWEAR TO GOD IF YOU DON'T USE THAT POTION FOR FUCK'S SAKE
if there's a round three I am not making it. XD;
It took you a while? Man, it's been like ten minutes. You're a speedy soul-searcher.
THE CHOSEN KING WOULD HAVE APPRECIATED A LITTLE LESS BEING YELLED AT, JUST SAYIN'
lol, Cor chopped his arm off. Good job, Cor! You ancient old bastard, all the way into your forties or so.
I kinda feel like we got more about Cor than Gladio, here. Huh. Whatever. It was fun, even though I nearly died for real there at the end. :')
(Don't worry, we've had Aranea keeping us company. Hard to be scared of much when she's there kicking ass in your stead.)
"perpendicular," really? That's what you're gonna say about it? Fantastic. XD
Whuzzis? Ah, Prompto preview. Looks like that's gotta be around chapter 12 or so, then. WHEE. ...oh shit that's next month. June's gonna be stupid busy. Ugh.
Now I really need to go finish Dajh and Serah's Epic Fanfic because Tales of the Abyss arrived and I wanna play it.
PS allergy meds suck