I was up waaaay too late last night, but I was going to be in bed on time tonight and then my roommate aggro'd me while I was feeding the cat and NOW IT IS LATE AGAIN
I'm really annoyed we didn't get a cool (OR EVEN ANY) shot of Aranea while she was in our party. Prompto, what are you even doing with that camera.
She must have been too intimidating. I mean, he couldn't take a pic of Cidney, either.
loading, loading, loading....................
Oh, good, we stopped for the car.
oh no, solo stealth infiltration.
oh, it's not stealth. phew!
You know, I don't remember volunteering for this.
Oh, hi Gladio.
NOCT, COME ON. He sounds familiar? I'd certainly hope so.
lol, boys
Even if I were allowed to leave, I'm pretty sure I'd get yelled at later if I did. So, uh, yeah.
Oh, now we are leaving, anyway. Was that it? Just a bunch of goblins? bleh.
YEAH, WHAT THE HELL YOU BEEN UP TO, ANYWAY, YOU NERD. You been messed up. Who messed you up? WHO TOOK CARE OF YOU WHEN YOU WERE MESSED UP??
Wow, Noct, you're not nearly curious enough about this. Y'all better be asking later.
... I'm with Prompto. You maybe like Cup Noodles a liiiittle too much for it to be considered normal, Gladio.
This feels like a bad commercial, haha.
I AM NOT SAYING EGG. I WAS WARNED. FUCK YOUR EGG. GET OUT. NO.
NO EGGS.
Now I get to find out what bad idea my selection of NOT EGG leads to.
Oh, just Behemoth. Okay. Phew.
I figured Shrimp probably involved fishing somehow, which, eh, sorry, Noct, but I'm just bad at it. Dun wanna.
[this comment will be hilarious by the end of this entry]
Hey, it's the mog Iris was using to murder shit with. Yeah, okay. Bit big to be carrying around all the time, but, uh. Sssure. Good luck charm. Whatever.
... Carbuncle, it's getting weird.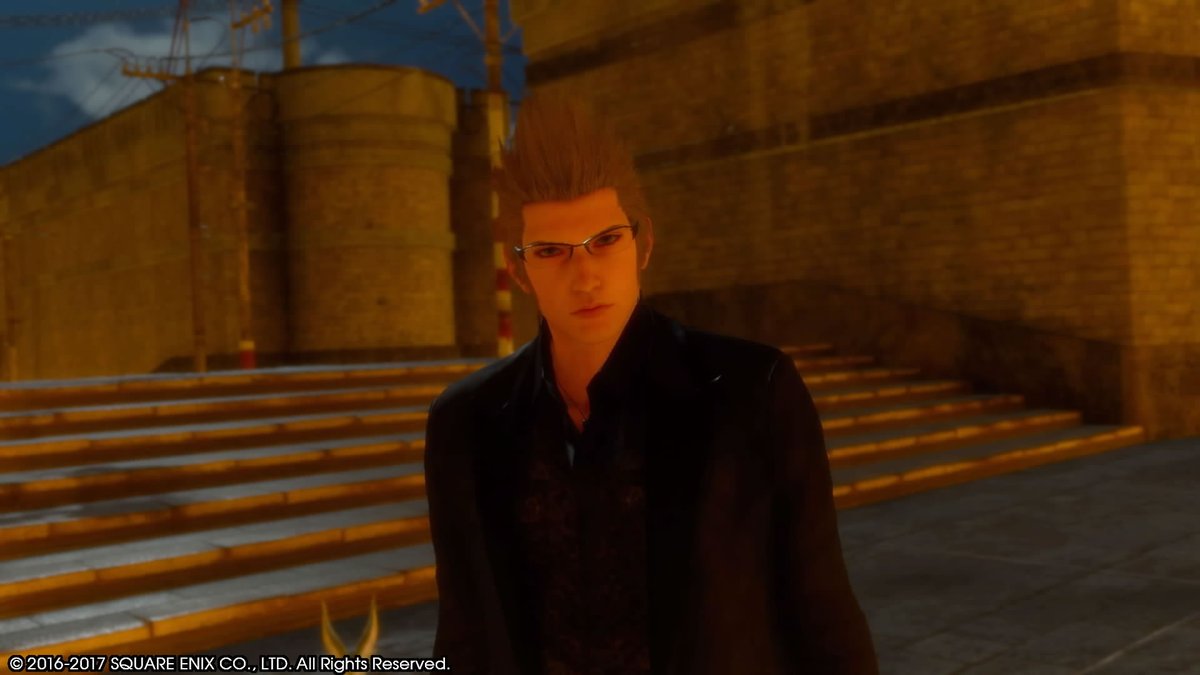 And what is this thing doing? Is it using a potion? Singing into some weird microphone?? Pretty sure it's singing.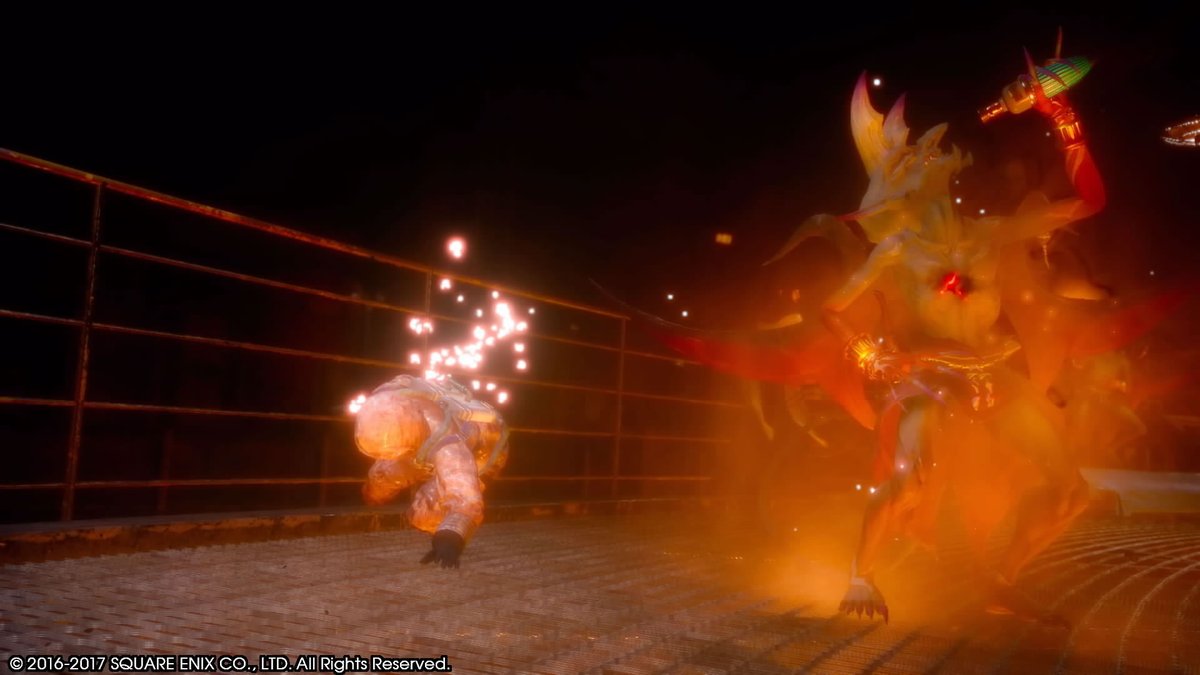 I wish we heard more about what Sania does with all this stuff we get her.
Heeey the road to Vesperpool stayed open. TIME FOR SOME HUNTS.
... Gladio wants me to go fishing. WHO WOULD EVEN SAY NO TO FISHING. He knew I'd take the bait? WAS THAT A BAD PUN OR ARE YOU PLOTTING SOMETHING.
Oh, I have to be up at dawn. I see. Ignis put you up to this.
Do I need a special lure for this? DOES THIS THING EVEN TRULY EXIST? I haven't even cast a line yet and I am already doubting.
"Puny, just like yours." OI.
Vesper Gar is not the monster fish, it is just
a
monster fish. Damn it. I'm gonna be here the rest of my life, aren't I.
Gonna run outta fish.
MOTHER OF TURKEYS JESUS BISQUE IS THAT THE FISH I WAS NOT PREPARED FOR THIS
There is literally no way I'm going to be able to land this. The stamina depletes too slowly.
COULD YOU STOP STRUGGLING FOR THREE SECONDS AND LET ME REEL FGS
uuuugh nooooo I was SO CLOSE
Well, I... caught everything else, at least, and I am informed it can be tried again.
MEANWHILE I GUESS THE CAR GOT BORED OF WAITING FOR ME TO FINISH.
REGALIA.
EXPLAIN YOURSELF.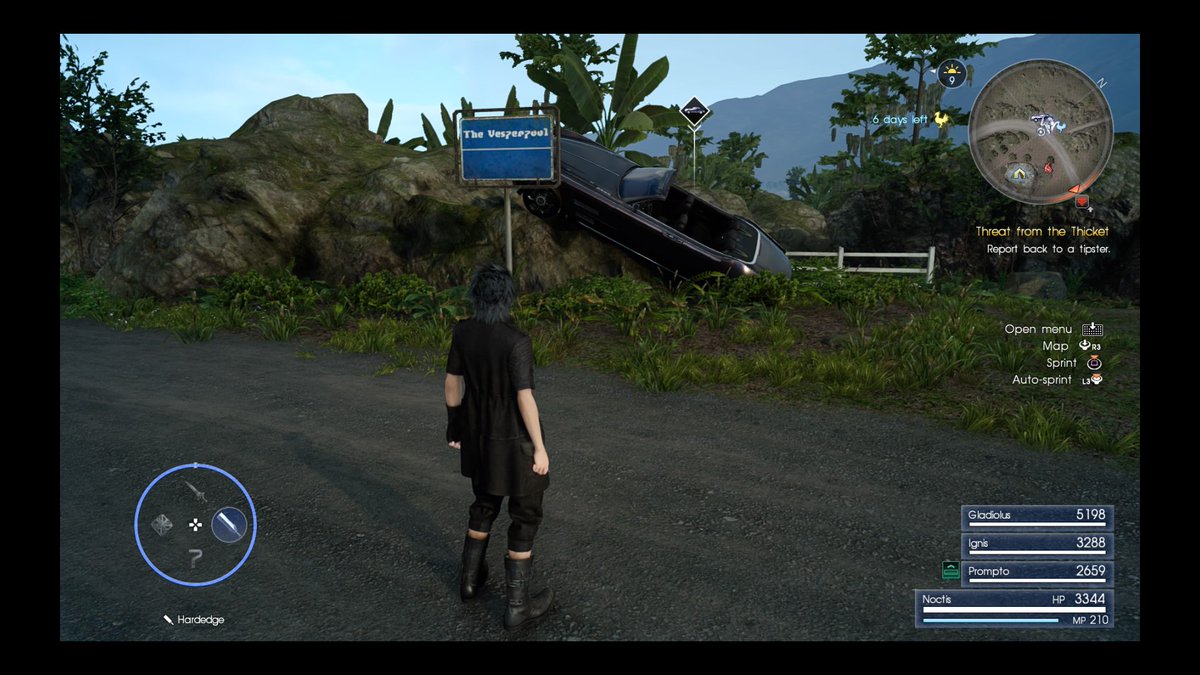 DAMN IT NOCT, IF WE'D HAD "LONGER LASTING LINE" THIS MORNING WE COULD HAVE CAUGHT THAT STUPID FISH
ah, another invitation to get that dumb fish. Yes, of course I'm going to say "sure."
I GOT IT!!!
Iiiii caught the fish it's the size of a FUCKING BOAT. Hooo, damn. I like Gladio jumping right off the dock to retrieve it, hahaha.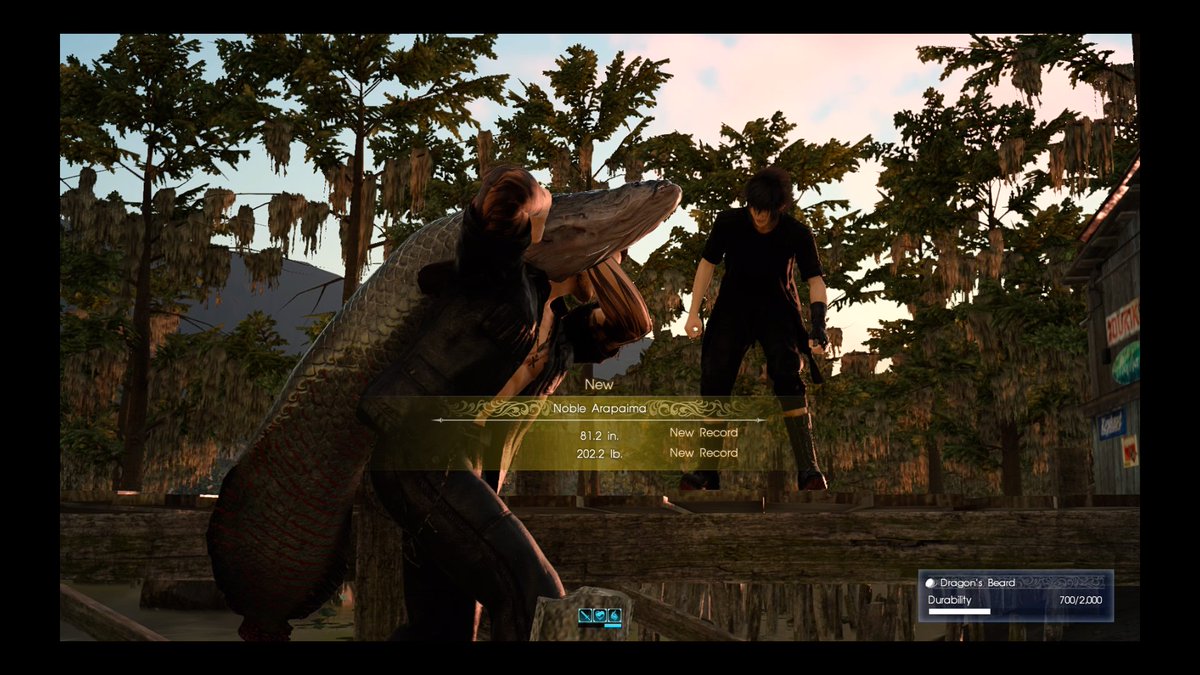 Good job, Noct. I am so proud of you. ;_;
haha, it's super cute how Prompto gets crushes on literally everyone.
Less cute when one of your party member's chocobos starts screaming in the middle of the lake, what the fuck, are you under attack?!
WE MISSED YOU, GLADIO, BUT ONLY BECAUSE WE COULDN'T GET THE CAMPFIRE RIGHT.
Hm. I picked up a Lich hunt in the dungeon with the cool water ceiling, but it's closed up. Does it only open at certain times? (I mean, obviously it only opens at certain times, since it's not open now. Bleh.) It was night last time I went in, I GUESS WE JUST WAIT.
Tada, yep. Door's open now.
Ugh, I keep thinking about how the Imperials use daemons to make their MT, I don't want to know where all that revelation is going to take us. Someplace horrid, I'm sure.
So I picked up the next hunt, for Quetzalcoatl, because nothing says irritating like beating a dungeon boss and then getting the same guy as a hunt, fffff - anyway, as soon as I entered, there was this weird noise everywhere and I just could not figure out what it was.
It's his damn wings. MAN, what a racket.
Welp, that was 200. Time to go delete a few. fffff this is gonna be tough.
HAVE A FEW:
Drowning Squirrel, but at least it's not Ignis he's creeping on?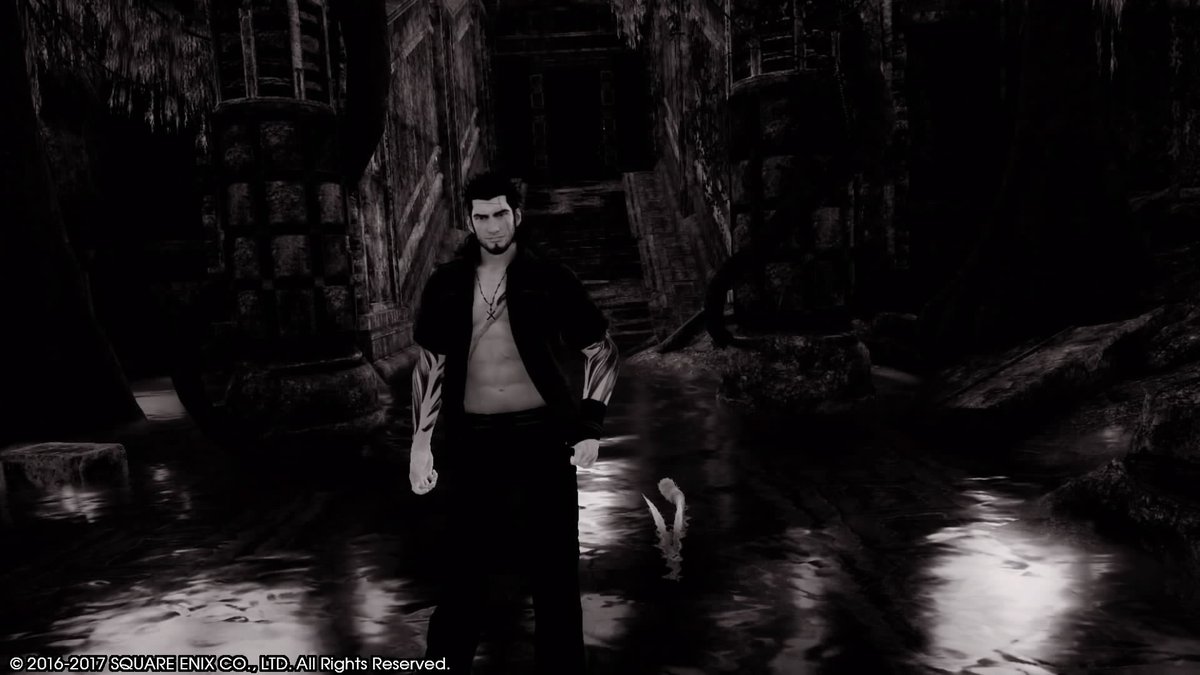 Noct going through his Squeenix Villain phase. Or possibly trying to be Riku?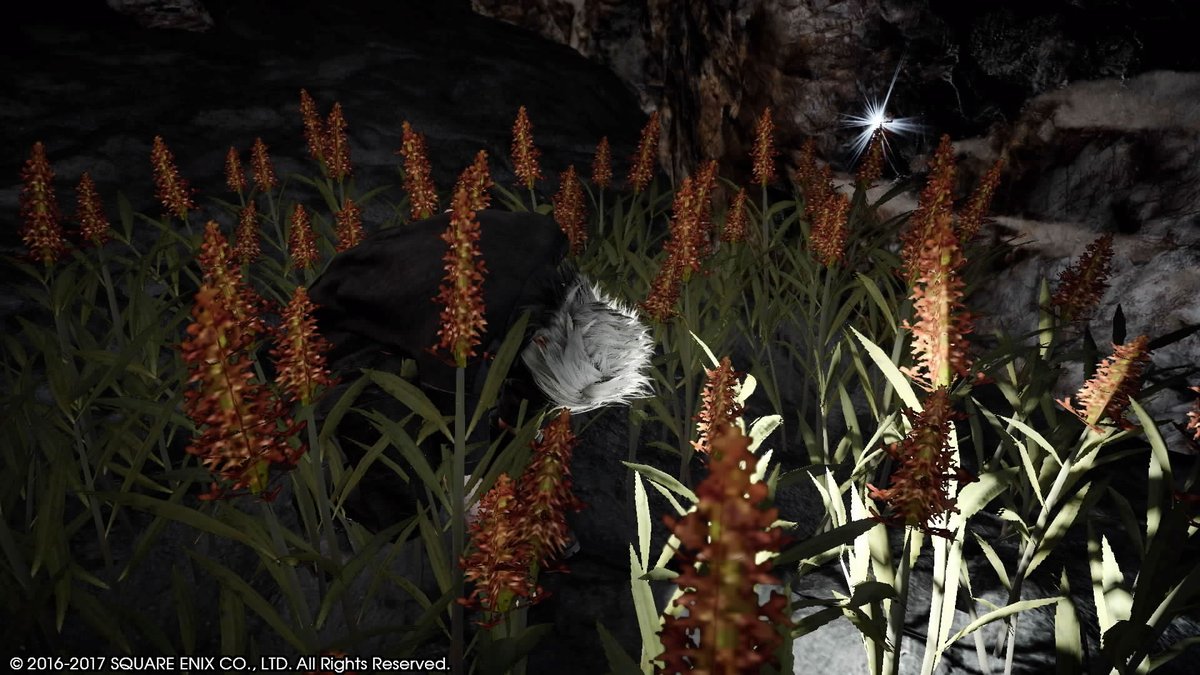 Ignis, working on his Dragoon-inspired pole dancing: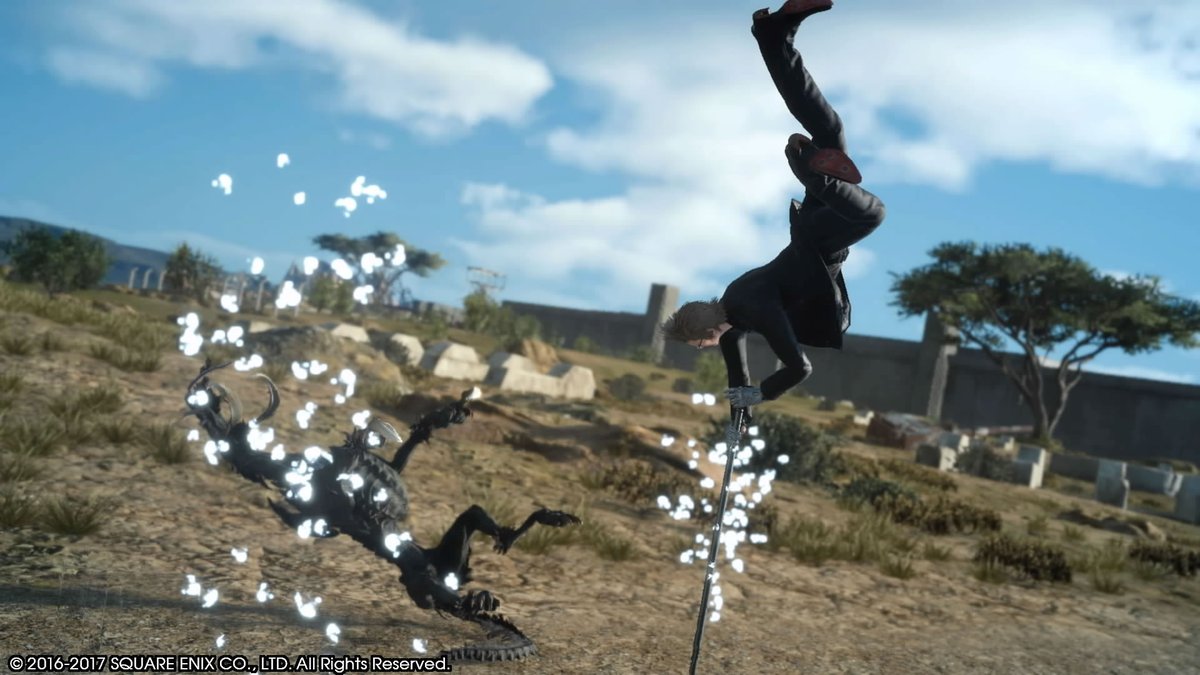 idk some monsters: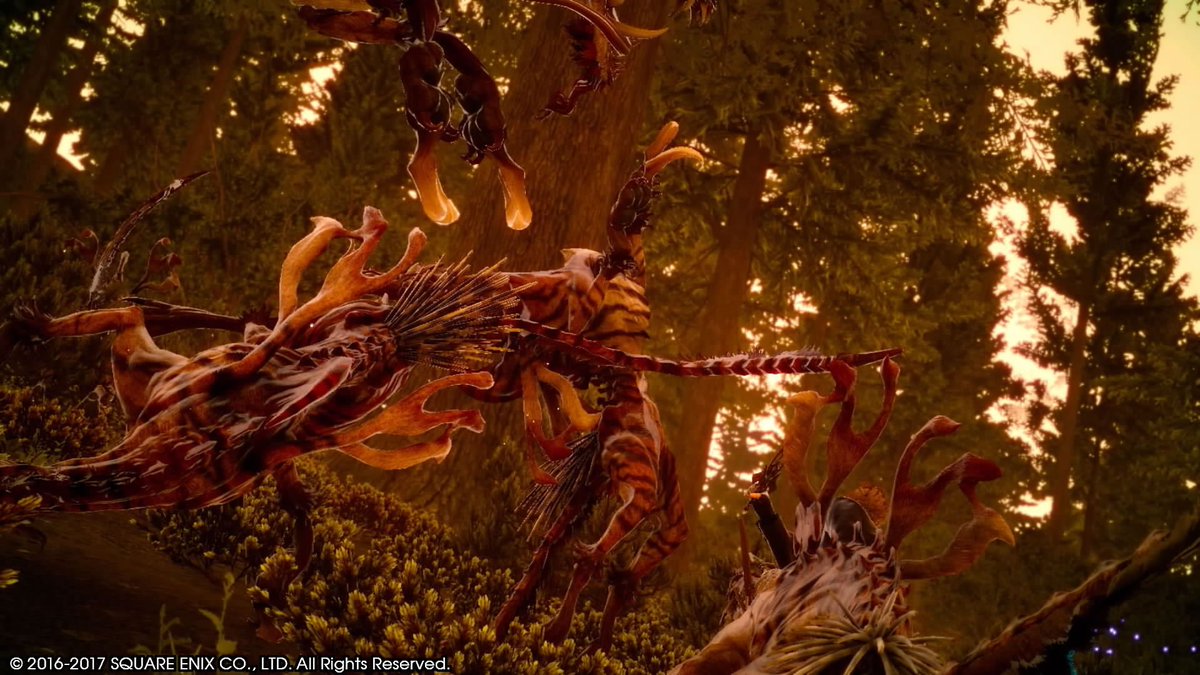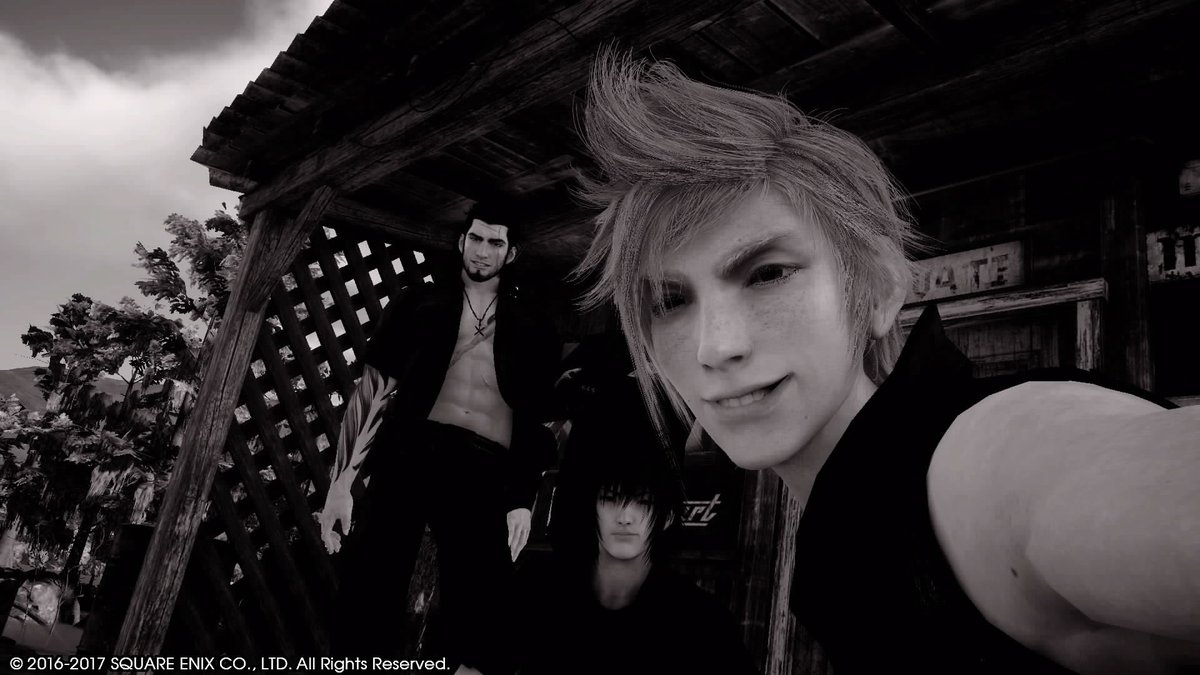 I have a lot of shots of Prompto and Noct being idiots. I had no idea there were this many in here. I LOVE THEM.
Listen Navyth, I've already caught at least two vesper gar.
... and they apparently count for this quest.
ooo, another shiny lure.
You know, I've got like twelve new lures now. I'm going back to that pond in the nearby dungeon to see if I can't have a bit more luck there.
Ignis, no, I RUINED breakfast last time.
OH NO! He's lost his glasses! FFS NOCT DON'T BE AN ASSHOLE, HE CAN'T SEE. IGNIS, I RELATE TO YOUR LIFE STRUGGLES RIGHT NOW.
GLASSES ARE
EXPENSIVE
, NOCT
lolll ignis I... don't think calling it like that is going to work, you're gonna scare it away.
don't lie, noct, prompto took a picture of his glasses-free face a while ago, remember? It was
super weird.
We literally just deleted it off the camera roll last night.
BREAKFAST IS SAVED.
oh, right, we got this upgrade item for CAR that we still need to hand over.
I love how much Cidney loves the Regalia. And now she wants to install new headlights.
You wusses, it's 2 in the afternoon, not nearly time for bed, AND IF THE PRINCE OF NAPTIME CAN KEEP GOING, YOU HAVE NO EXCUSE.
haha, I walked past the hole in the fence at least five times, dang.
gdi it's a dungeon. I was hoping this would be another simple fetch-quest.
I'm sorry you're claustrophobic, Prompto.
I'm really lost and this Naga+1 is REALLY AWFUL. Nagarani?
"Gladio's been turned into a frog."
"THE HELL ARE YOU TALKING ABOUT????" poor noct
Cidney, these headlights had reeeaally better be worth it.
Tottering precariously along a pipe over a big drop, the two adults talking about how easily we could be murdered if anything decided to attack us. Shut uuuppppp.
even my party members know we're lost as heck
oh my god
are these them? THESE ARE THEM. I'M LEAVING. THERE'S PROBABLY SOMETHING ELSE WORTHWHILE IN THAT SHITHOLE BUT I. AM. DONE. That was at least four game days. Mercy. Please. I beg you.
Boys, y'all have earned a real bed.
Daemon-proof headlights.
Cidney, please stop griefing us over shit that happened that we had nothing to do with. I'm sorry the city was closed off, I'm sorry the car got attacked, I'm sorry you had to see it, but I've just spent hours/days depending on your point of view in a sewer and I'm really
not
feeling it.
WE GOING TO THE 10K HOTEL IN GALDIN QUAY BECAUSE I SAID SO and also I gotta get over there for a quest anyway I don't care that it's only 9 am WE ARE SLEEPING FOR AN ENTIRE DAY. They're all in dire need of a wash, too.
BUTTS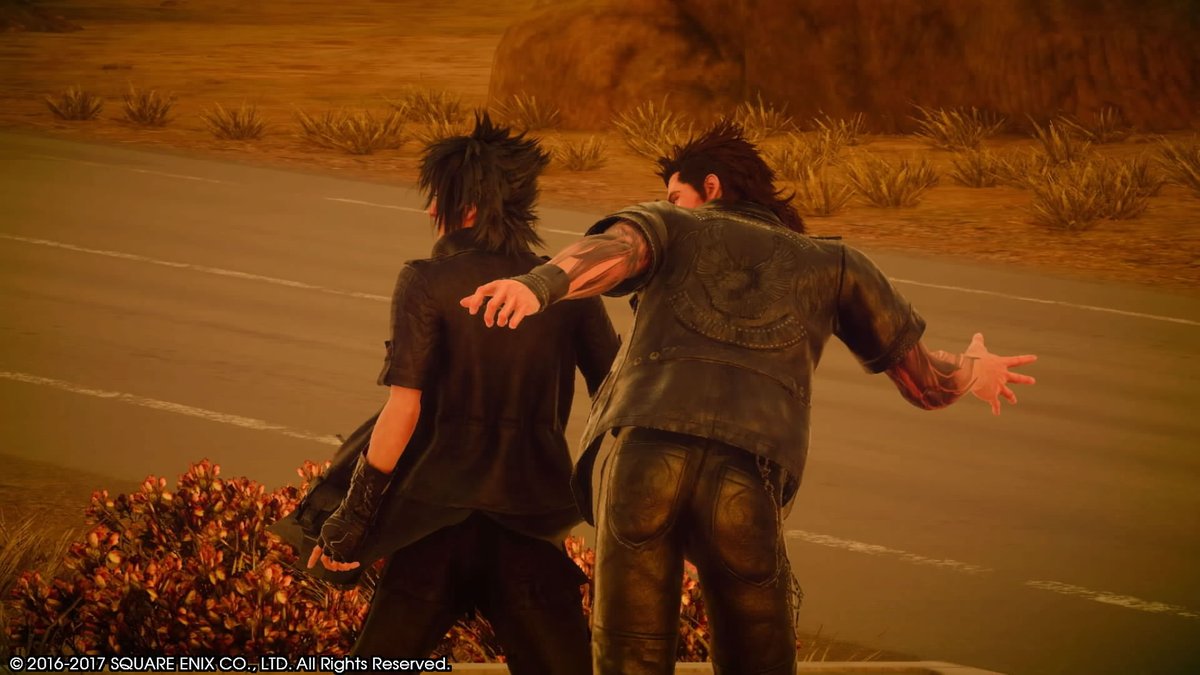 DON'T TELL ME, YOU WANT MYTHRIL, TOO.
Doesn't seem to. GOOD. I don't wanna go back into that dungeon to get more of it.
"So, I'm here to talk about this giant fish of yours." Why am I doing this to myself.
NO ONE HAD LANDED A LIEGE OF THE LAKE, EITHER, JUST SAYIN'.
I'm gonna do this rock quest for that annoying reporter first, okay? Maybe then he'll be out of our hair, at least for a little while.
Did it always get dark this fast and I just not notice it because it was getting dark fast and early in reality? Or are there psuedo-seasons in here? Or...???
Gladio doesn't want to meet the weirdo who built this tower, all but guaranteeing they're an undead monstrosity serving as the dungeon boss.
hmm, I guess this is another dungeon that only opens at night. My timing is awesome.
More metal discs on the floor.
Haha, yeah, sudden excitement for dungeon, especially one that's a hole in the ground, IS kinda weird for Prompto, but let's roll with it. He was pretty weird in the place with Aranea, too, maybe he's just feeling peculiar lately. Teenagers, am I right?
I wonder if its the same architects as there, actually.
hooooly shit these thunder bombs are fucking me up. We may have to abandon this one, boys!
Oh, it's not the thunder bombs, it's the level 54 one that's MURDERING US UNAPOLOGETICALLY by... spawning more thunder bombs. I mean. Same difference BUT IT ISN'T.
What would you do without me, Prompto? Probably not be in situations that continuously require your life to be saved, to be honest.
Well. Thanks for taking there lead, there, Gladio.
I'm standing in front of a drop thinking, do I really want to go down there? The last ledge I jumped (read: fell) off spawned a bunch of those awful bombs and SURE WE'RE ALIVE but it was a bad scene. And while I'm debating, Gladio just throws himself off the drop. Ugh. That room looks like a massive monster spawning ground.
Guess I gotta. No way back out except a return to the entrance, anyway.
called it, mobs everywhere
"At least
you
be careful, Noct" Ignis of the long-suffering sighs.
You know when something looks like a bad idea and you go anywhere and then it's a worse idea than you thought?
Yikes.
Anyway, Ignis, did you see where Gladio and Prompto ran off to while I was fleeing the battle field? Because, uh.
Oh, they're both still at the bottom of the ramp.
Oh, no, here's Prompto.
GLADIO, GET YOUR ASS UP HERE, I CAN CLEARLY SEE AND HEAR THAT THEY'RE NOT ATTACKING.
dude, is he actually dead? I mean, he has HP, but he is not catching up.
Jesus. OKAY, FINE, BACK INTO THE RAMP OF DEATH. Maybe it'll be easier to go down, since the bombs were all at the bottom, so I won't be dodging those as well as the puddings?
Yeah, here he is. Good grief, dude. IGNIS DIED FOR YOU, I HOPE YOU'RE HAPPY.
"Look, if anything happens to me--"
"I WON'T LET ANYTHING HAPPEN TO YOU"
♥
I'm so glad Noct and I agree about protecting Small Blond Child.
I'm pretty tired to be walking all the way across this bridge-thing, too, Prompto. My actual kingdom for a damn haven in this pit.
(SADLY, THEY ALREADY TOOK THE KINGDOM AND HAVE CLEARLY LEFT ME NO HAVEN WHATSOEVER.)
What's the glowing red thing down there?
hahaha, there's a yojimbo just... standing in the background while I fight all these imps and I didn't see him spawn, so the camera spun and he gave me a pretty good startle. Oof.
NOW, RAMUH? WHY NOT DURING THE BOMBS??
Okay, seriously, what the
fuck
is this place.
WHAT DID THE RED THING DO TO ME
oh. it was the exit.
????????
I don't like this Costlemark Tower dungeon.
I guess I missed some metal panels somewhere, but I'm also okay with that, to be honest. I'll come back later, and maybe the lightning bombs won't one-hit us quite so quickly then?
Anyway. To steal Eris's joke from twitter, Prompto clearly works for the post service, as he's been checking packages again: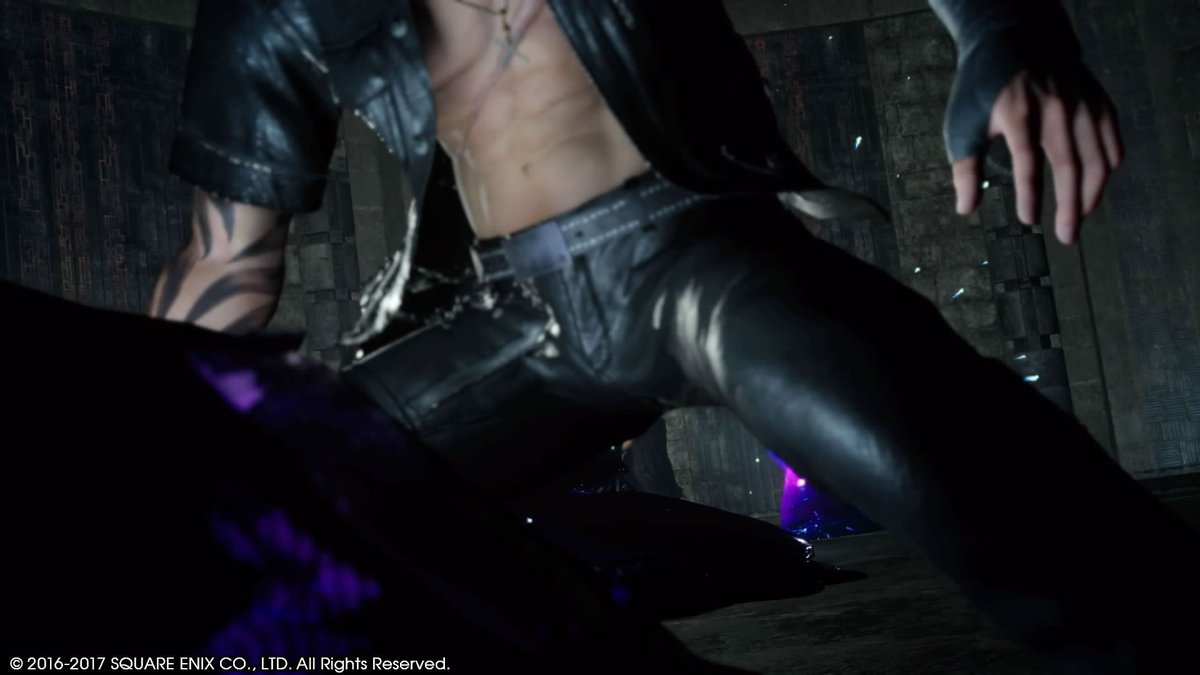 WHAT POSE ARE THEY EVEN IN I honestly can't tell, this is a weird shot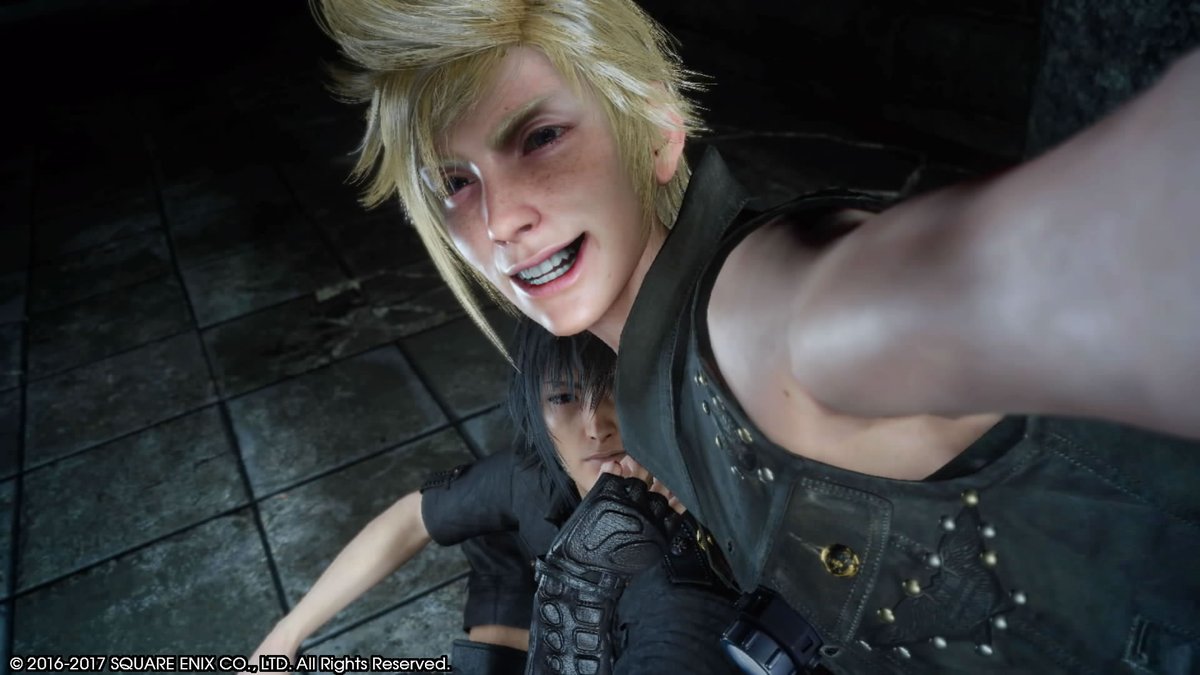 Can't believe the rapture came for Ignis.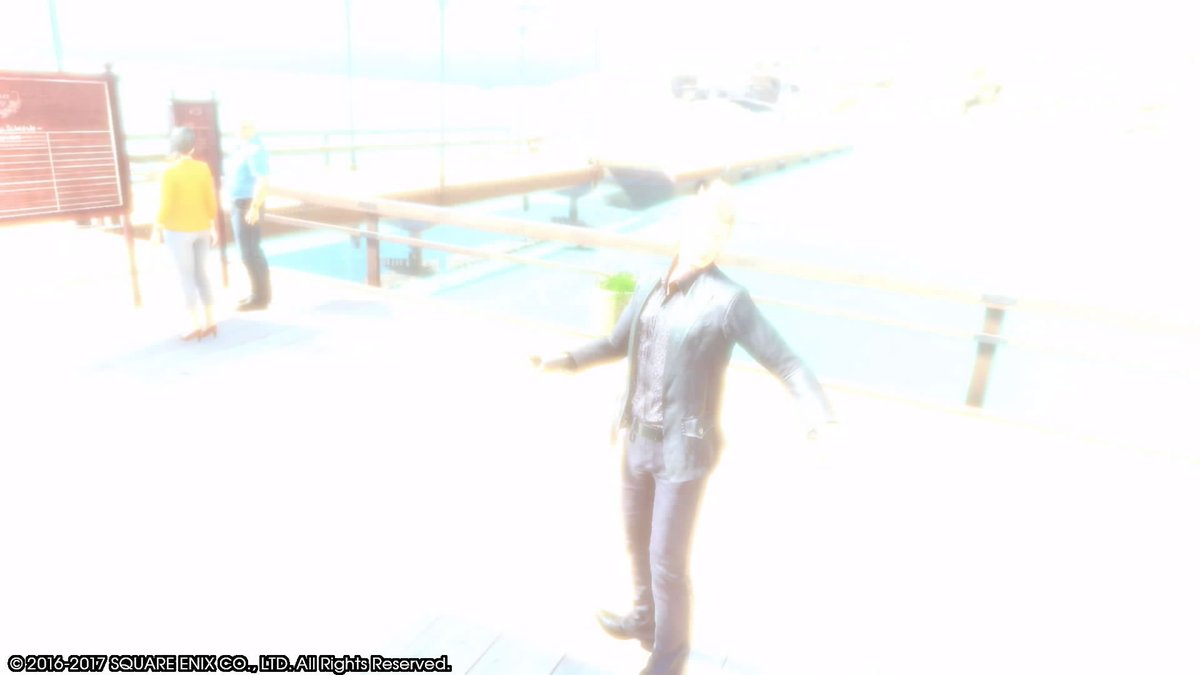 Oh, guess it missed.
That or reading the paper while Noct is passed out in the background is his ideal afterlife.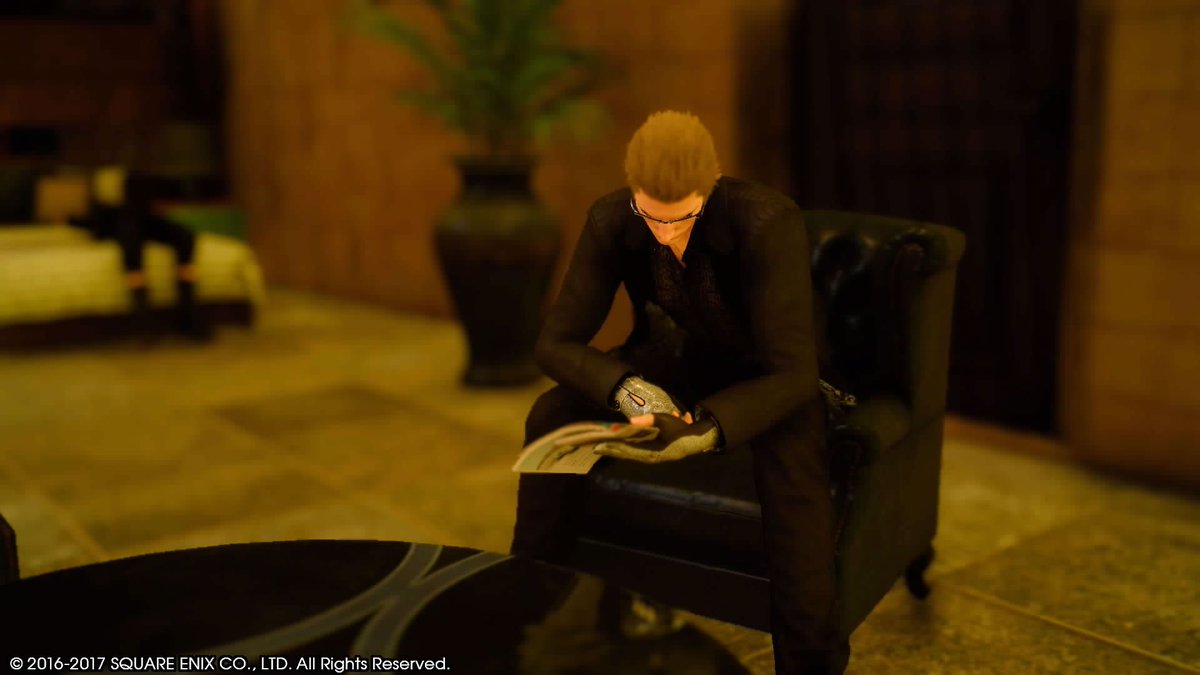 (it probably is, tbh)
Oh. "You probably heard on the news how the nights are getting longer." It wasn't just me. That said, you clearly know who I am, so why would you ask if I knew about the Ring of the Lucii?
Anyway, let's take a crack at the big fish.
what the actual fuck is this music
is this because of the limited time quest message i got when i started fishing
this is awful
make it stoooooppppp
Oh, was that the fish I'm looking for? I saw something big lurking nearby, but it didn't bite before this stupid trevally.
oh no it's big
(literally what else were you expecting)
BITE MY LURE ALREADY I CAN SEE YOU RIGHT THERE
BITE IT
BITE IT
ugh no another fucking trevally
GLADIO THIS IS A REALLY FAR CRY FROM SMALL FRY AND I WOULD THANK YOU TO GET READY TO JUMP OFF THE DOCK AGAIN, JUST... give me twenty minutes or so, yeah?
Huh, the music actually isn't so awful once they get out of that IT'S ALL NEW IT'S ALL NEW IT'S ALL NEW IT'S ALL NEW bit at the beginning.
This guy wiggles a lot more than the liege did.
YESSSSSSSSSSSS
FISH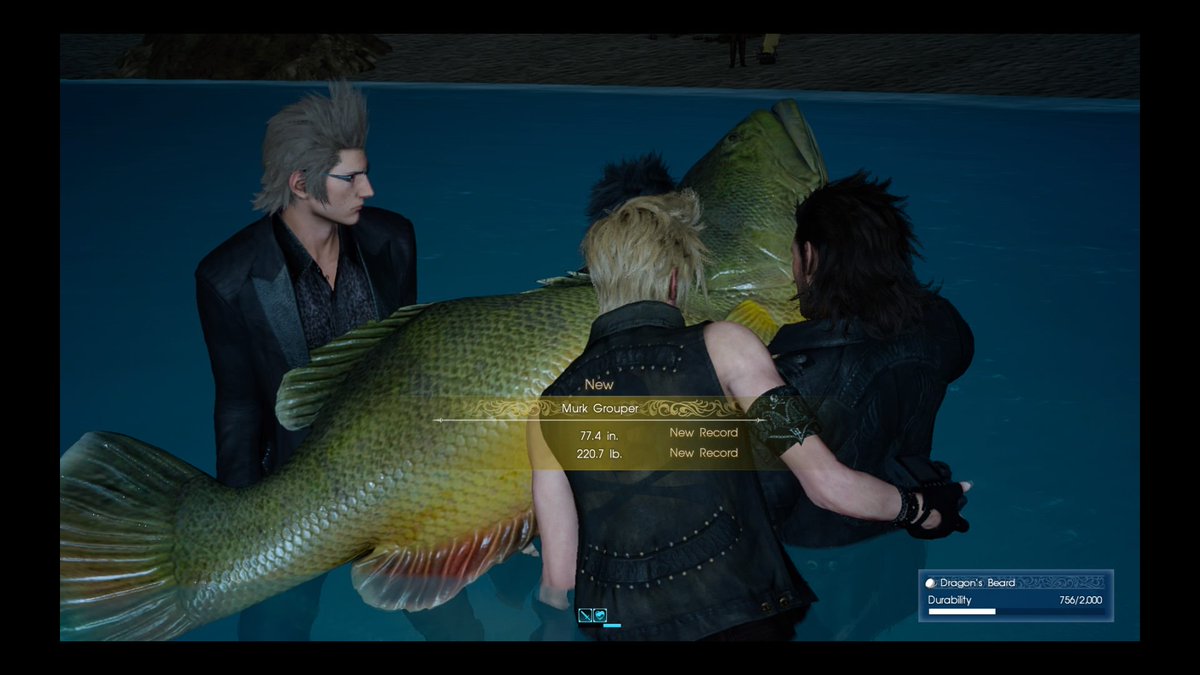 "Noct Gar" are you serious hahaha oh no.
Please officially change your last name to Gar.
PS: the Liege of the Lake was both bigger and harder to land, but I greatly enjoyed everyone jumping or getting booted off the dock here.
If I were steam valve number 8, where would I be hiding. Noct and I wanna go to bed, but we gotta finish this inspection for Holly.
UGH FINALLY
literally right there bleaaaaaaaugh
Not the full chapter, obviously, but this is long, so.