I just realised I called the last entry chapter seven when it was really six.
OH RIGHT GLADIO
ABANDONED
ME, SOME KIND OF BODYGUARD YOU ARE. Loser. We're not friends right now.
Fortunately(????), I am both grossly overleveled and have been dumping most of my AP into Prompto and Ignis (I didn't mean this to happen, it just did. He seems to need the least help with staying alive and killing things), so WHATEVER, GLADIO, WE DON'T MISS YOU, ANYWAY.
;___________________;
aha, I was about to trek
all the way around the lake
and then remembered, I WAS TOLD TO SWIM ACROSS THIS STUPID THING since oh right chocobos can swim SHORTCUT.
Oh, the Professor's fireflies are in a dungeon. Okay, cool.
Oh, haha, so was Dino's gem. Surprise!
As the game progresses, I'm getting a lot less of Ignis telling me to watch myself and a lot more of Prompto making fun of me for
still being awful.
I like it.
That's not what Treants look like. :|
Shuriken? Cool. Oh, it belonged to a queen! Even cooler!
aaa this place is so pretty at night with all the fireflies! I wish I could turn our lights off.
Day 764:
Ignis finally snaps. Please stop choking Noct, Ignis.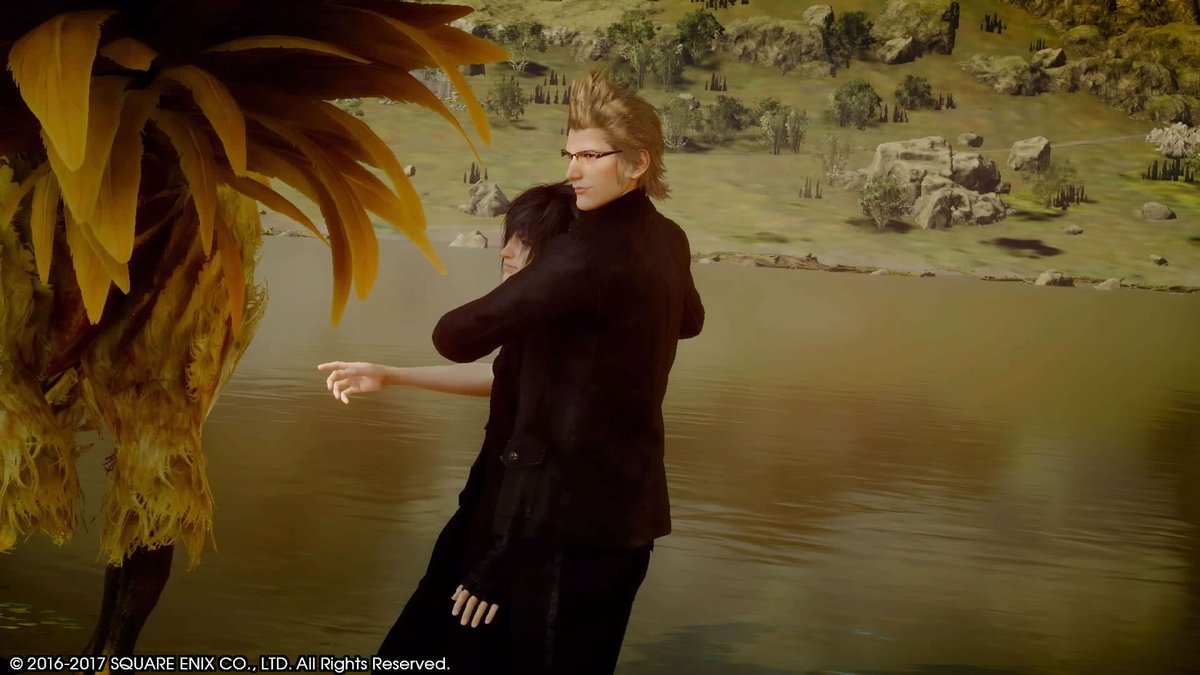 Carbuncle disapproves of these actions and continues his slow creeping on Ignis.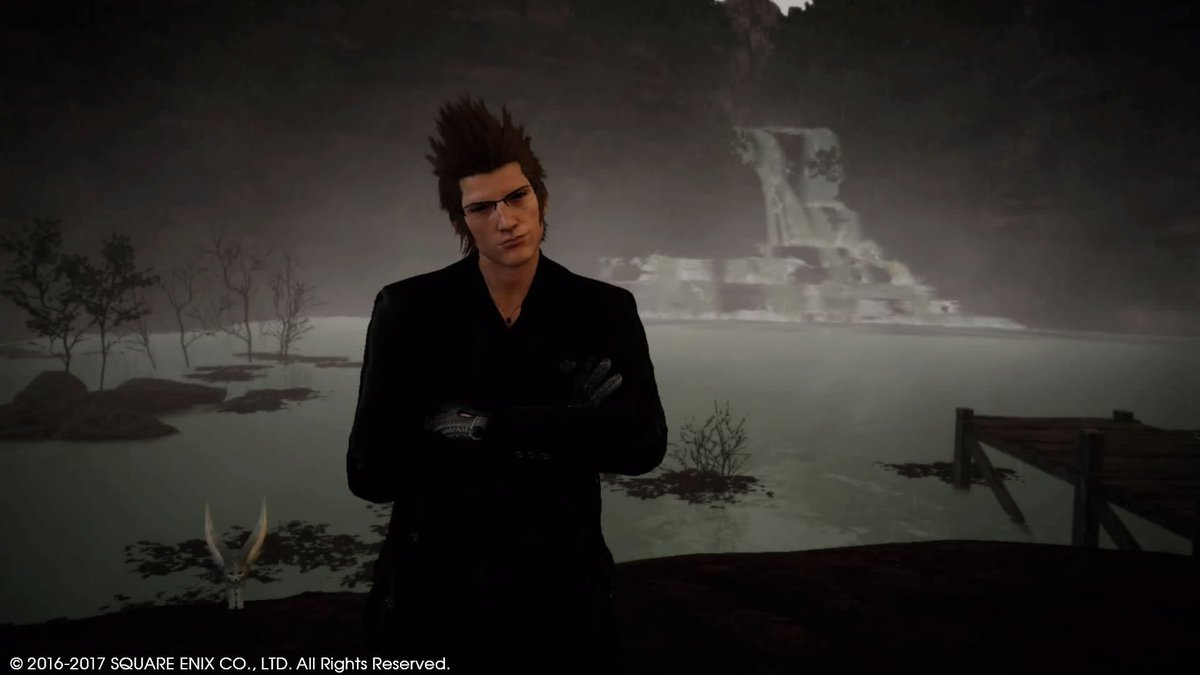 No one comments on him, so I can only conclude he is, in fact, invisible on film as well.
IT'S HAPPENING AGAIN NOCT IS FLYING
I CAUGHT A QUICK CLIP OF IT BUT IT JUST LOOKS LIKE HE'S LANDING THE MOST ELEGANT BACKFLIP EVER.
Disappointttttttttttttttt.
Anyway, finished off those few sidequests I had for this area, time to head over to Steyliff Grove.
ugh.
Of course
it's you. I TOLD YOU TO STAY AWAY FROM ME. AND MY PARTY MEMBERS.
Yeah, a surprise. Sure. of course. A real shocker.
I MAY BE A TRIO, BUT I AM A *GROSSLY OVERPOWERED* TRIO.
IT'S NOT A TOUCHY SUBJECT
YOU'RE JUST A JERK
no, shh, he's not reading our thoughts prompto, he's making educated guesses, don't let on that he's right
a moment setting up an ambush I don't
like
you I don't
trust
you and
I don't want you hurting my children.
Aranea!
Yeah, I, uh. Kinda immediately figured you'd see through that. Cough.
I like how I like her a lot more than SLIMEBALL even though she's a555555555555555555555555555555555555555
5555555555555555555666666666666666666666
6666666666666666666666666666666666666666
6666666
... sigh.
Even though she's actively tried to kill me once already. I LIKE THAT LEVEL OF HONESTY, OKAY.
Ah, she's snarking already, she'll fit right in.
BIGGS AND WEDGE
Sudden desire to make tonberry jokes, I'm just having FFXI flashbacks... Stupid jungles and temples full of tonberries. Though, to be honest, considering it's more a forest than a jungle and the big ol' pond and the skeletons, it's more like King Ramperre's Tomb.
Do I think it's an ambush? It's always an ambush. Come on.
I WISH IT TO BE KNOWN THAT THERE WAS A ROCKFALL AND IT DID
NOT
LAND ON MY HEAD
woaaah what are we underwater somehow?! What the hell?? This is amazing. :O
? No, we clearly haven't been this way. There's water in the ceiling and we haven't left the room, so it's not like we circled around. Wtf are you talking about, Prompto.
NOCT, IF PROMPTO FALLS NOW I AM BLAMING IT ALL ON YOU.
Ugh, this place is so cool, what the hell.
Of course they're turning daemons into weapons. Ugh. We aren't exactly going for subtle bad guys, here.
I'D SAY LEAVE AND JOIN ME BUT HAHA NO WAY COULD I AFFORD TO PAY YOU. :(
hahaha, Prompto maybe offer her the front seat of the Regalia. You know you want to.
She's talkative. GOOD, ME, NEITHER, HE'S AWFUL, ISN'T HE? Aranea, can we go out for drinks, I'll pay, we can complain about Ardyn.
o
you can fall.
siiiiiiiiiiiiigh, hahahaha
o the floor can collapse under you as well, nice
Who the hell can I summon in a dungeo--- oh, hey, Ramuh. Dare I ask how even?
Seriously, why don't we just do that every time, though, I mean, it's fun.
THE FLOORS JUST RESTORED THEMSELVES
that was a beautiful song about stairs, Prompto.
UGH NO I WAS SO CLOSE TO THREE BARS
Prompto, you're being weird, like two minutes ago you were excited for treasure and now you don't want to cross the bridge.
YES THREE BARS
SHE JUMP!!!!
(I probably could've got three on the Iron Giant, but summoning inside underground/underwater??? ruins was too temping to pass up.)
haha, Ignis wants us to keep the bumbling to a minimum. It's a little late for that, I'm afraid.
What are these things on the floor, this is what, the fourth? How many are there?
Fifth...
Sixth...
Man, these Oracle Ascension Coins, though. For a limited and, I assume, fairly recent, run, they sure are everywhere.
Who is this pretty?
Ah Quetzalcoatl.
I know I shouldn't factor my own dying into battle plans, but my max hp are somehow really low. Noct, be a bro and go get hit by something painful.
Thanks!
MTs are 'born from daemons'...? I DON'T LIKE IT.
DARKNESS IS COMING, she warns. Aranea, I'll
maybe
believe
Kingdom Hearts III
is coming out when I have it in my hands and not a moment before. I mean, I'm still not sure
FFXV
has actually come out. This could just be an epic fever dream.
Return to the entrance? When there's clearly a stairwell right in front of me?! Please.
Oh, just another one of these doom doors.
... where did Biggs and Wedge go?
How did you get word from Cidney, do you have secret texting technology in your glasses?
Oh, they're just farther out here than I remembered them being.
... we just leaving the Regalia here?
Eugh, yeah, tempting to run off and waste time, but no, let's move on.
Okay, no, seriously, are we just leaving the Regalia?!
Ah, Chapter 8. Should've seen that coming.
TO BE CONTINUED