This feels like it took forever but I think it's just because I had that whole Chicago irl sidequest in the middle.
So I guess I gotta go do the FUCKING CATOBLEPAS HUNT some more until I get the item drop jfdlkadfnjkd RNG WHY
THERE. Got it that time, and thank goodness, because I was
not
looking forward to Round 3.
Never one for subtleties, upon viewing this shot, Prompto loudly declared his appreciation for the image's subject.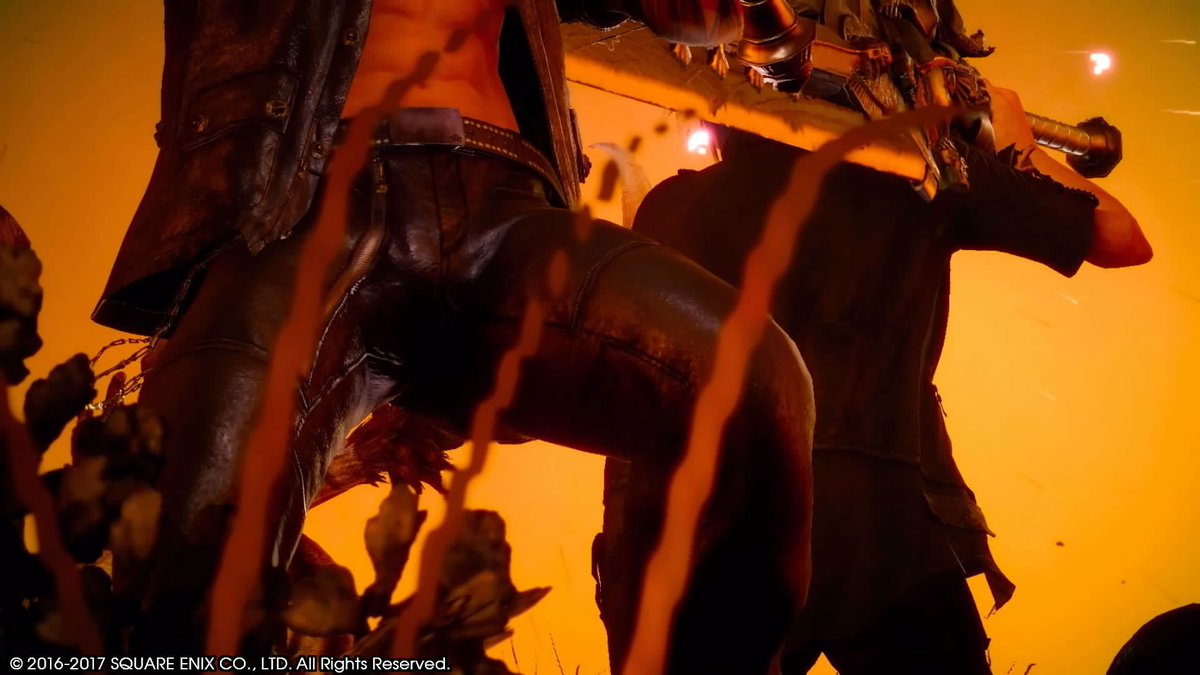 Oh, this might be the bird-thing I saw during the Ramuh scene.
It is actually a griffin, and it wants to kick my ass.
Ruunnnnnnn.
he mad I won't cross the invisible red line so he can kill me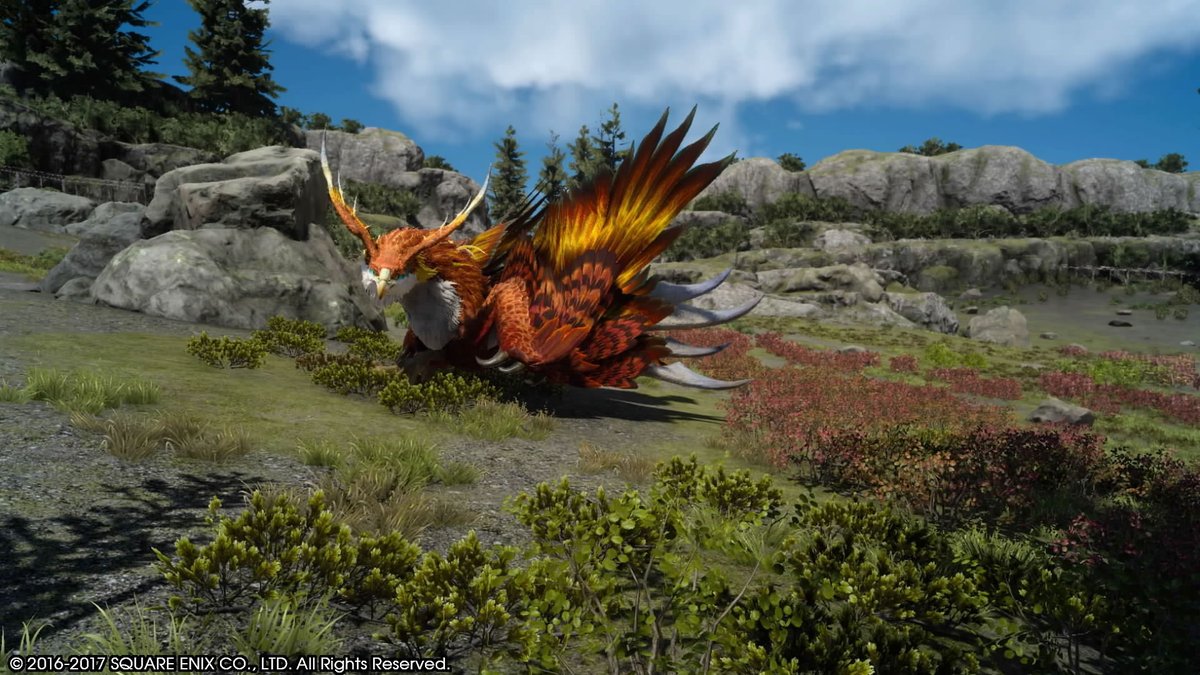 GOOD GLITCH. Noct just went flying around like he's Peter Pan or something, just hovering over the ground and lifting up a bit sometimes. I had no control over him for this at all, but it was great to watch.
So I'm running back to Hammerhead and I meet an Iron Giant, which I kill, then immediately a bunch of magitech dudes spawn, which I kill, then another Iron Giant spawns, which I kill, then
more magitech dudes
, which I kill, and now a Red Giant? This is stupid. Let's fight it.
I killed a Red Giant!
cough cough Ramuh killed a Red Giant, cough
WOOHOO, WE'RE ALIVE! Let's celebrate by eating something
dead!
prompto ilu
And now here's another one oh my god I'm leaving this is dumb
CHOCOBO HIDE-AND-GO-SEEK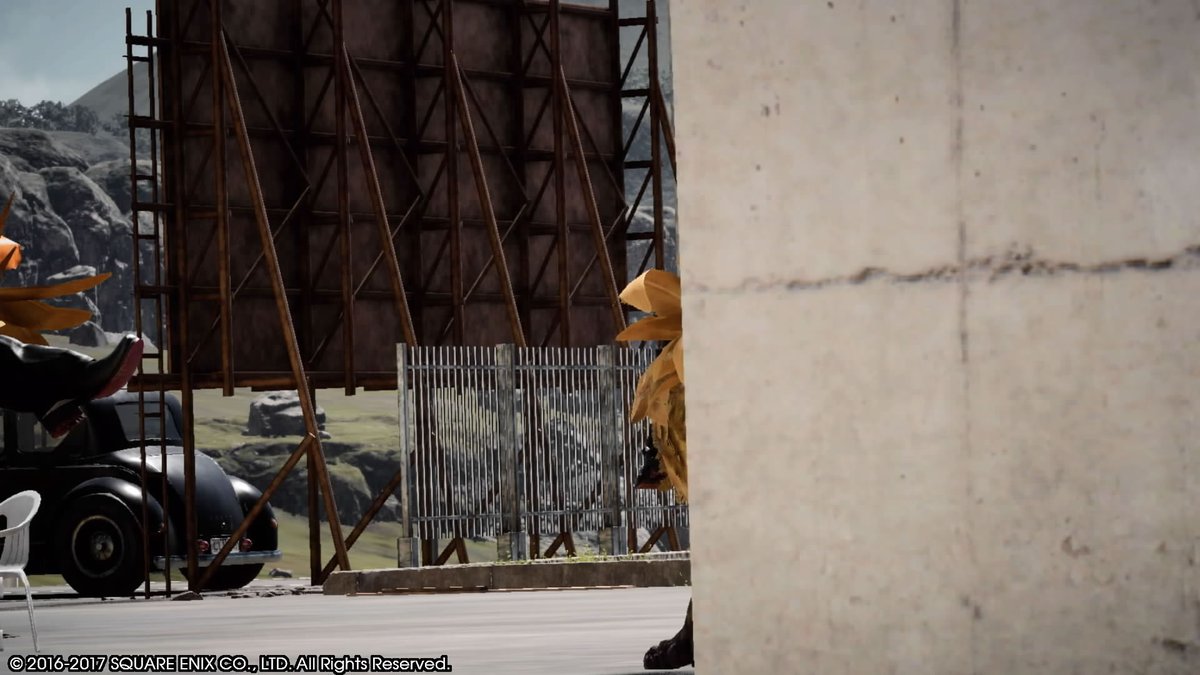 Cid I'm like five feet away, you didn't need to call me to tell me you were done with the weapon upgrade.
hahahaaaa holy crap blizzaga just straight up freezes things in place that's amazing
(I went to get more tomatoes and peas and there's a bandersnatch down here now, so I hurled a Unicast III at it and IT ICE NOW)
Then I made the mistake of hurling myself off the ledge down towards it and now my three boyfriends are all just watching. Prompto's hands are getting a little clammy. I DON'T WANNA HEAR IT, PROMPTO.
UGH.
THANKS FOR ALL YOUR HELP, JERKS.
Okay so - I didn't actually bring Iris with me earlier because I was worried that when I picked her up we would
have to
progress the story and I still had a few things I definitely wanted to do before potentially getting on a boat and leaving. But now I am ready for that to maybe happen! So I am here! And she's like, I have a bad feeling, let's wait.
bleh.
Oh, well, I guess it's getting late here, anyway.
OH FUCK I HAVE TO ACTUALLY PICK A PERSON THIS TIME????? PROMPTO, YOU DEVIOUS LITTLE SHIT.
I was gonna pick up Iris and Do Progress but I remembered at the last second I never went up to this corner, so HERE I AM AT HUNTER HQ.
Hmm, Verperpool is right there. I was told it's weirdly cool and creepy to swim your chocobo into it. Can I get over there? There's a barricade, I haven't made it far enough over there to see if I can get through it yet.
Ignis stealing all the recipehs.
OH NO
SANIA
THERE IS A DART BOARD HERE
NOCT IS NOT GREAT AT DARTS
Ignis wants some bone knives.
Yeah, this is super blockaded. Darn. :(
Oh, that means I can't do Sania's quest. OR Dave's. WELL.
Oh, I'm glad I took another detour because apparently if you camp here gla
gladio no
he wants me to pick a flower for his sister
gladio
GLADIO, IT IS REALLY KIND OF MEAN TO ASK YOUR BOYFRIEND TO GIVE YOUR SISTER A PITY FLOWER.
but also that reminds me one of my FC mates told me there's a camp to the east of hammerhead I should check out? East, really, there's nothing on the map? Whatever, let's go.
... I'll be damned, here it is.
And yeah, Prompto wants a thing. Cool! I'd never have found this, left to my own devices.
"Dude!" hahaha
Prompto, he's not upset about you being a weird stalker, he's hurt that you like her so much. C'mon, man. Though it sounds more like he wants to take a picture of Hammerhead, itself? I dunno, guess we'll find out.
Poor grumpy baby wants to go back to bed if this is what Prompto wants.
.... Considering how many times we've been to Hammerhead at this point, I was probably supposed to find this one a while ago.
Yeah, this is just of Hammerhead, that's not too weird?
lllllolllllllll awko-taco. Be a good bro, Noct. SAVE HIM FROM HIMSELF.
haha, I probably
should've
said Hammerhead, but CID NAPPING is too funny to not pick.
HE JUST LITERALLY SAID L-O-L aaaaaaaaaa prompto
Cidney agrees, it sounds funny.
NOCT CONFIRMED GOOD BRO, BUT DOES HE KNOW HOW TO CAMERA?
Prompto, I won't lie to you, the worship is a little weird, but I guess I can accept it since she
does
take care of CAR. I'm happy you're happy.
..... DOES THE CAMP NORTH OF HERE DO ANYTHING? DID I EVER EVEN STAY AT IT? I don't think I did, I always ended up south. Does the game keep a tally of where you have and haven't camped??
Eh, whatever, camping is free. Worst that'll happen is nothing.
/zoom/
IIIIIIIIIIIT'S IGNIS. Please don't ask me to chop vegetabl------- lol. BREAKFAST AGAIN, IT IS.
Oh, fuck, you want me to stir a pot? Ignis, honey. No.
Seriously, how old is this guy? Less than thirty according to the can of wax quest, but he's also clearly like at least in his forties, mentally.
I completely ruined breakfast. Rip.
Aight, I'm not gonna look for more of these, because then what if I run out. I doubt they plan on adding more. I WILL NEED SOMETHING TO DO IN ENDGAME, ASSUMING WE DON'T GO ALL, "WORLD OF RUIN" OR "END OF AN ERA / A REALM REBORN" LEVELS OF MAP-REARRANGEMENT.
WHY IS THERE A QUEST DOWN IN GALDIN QUAY ALL OF A SUDDEN. FFFFFFFfffffffffffffff. Well, guess we gotta. Man, she wants me to find berries so she can make a dessert based off my wedding?
so gay
P: Wow! This place is so ROMANTIC!
G: And you get to enjoy it with
us
N: All
three
of us!
I: YOU are a lucky man.
so gay.
oh my god what is happening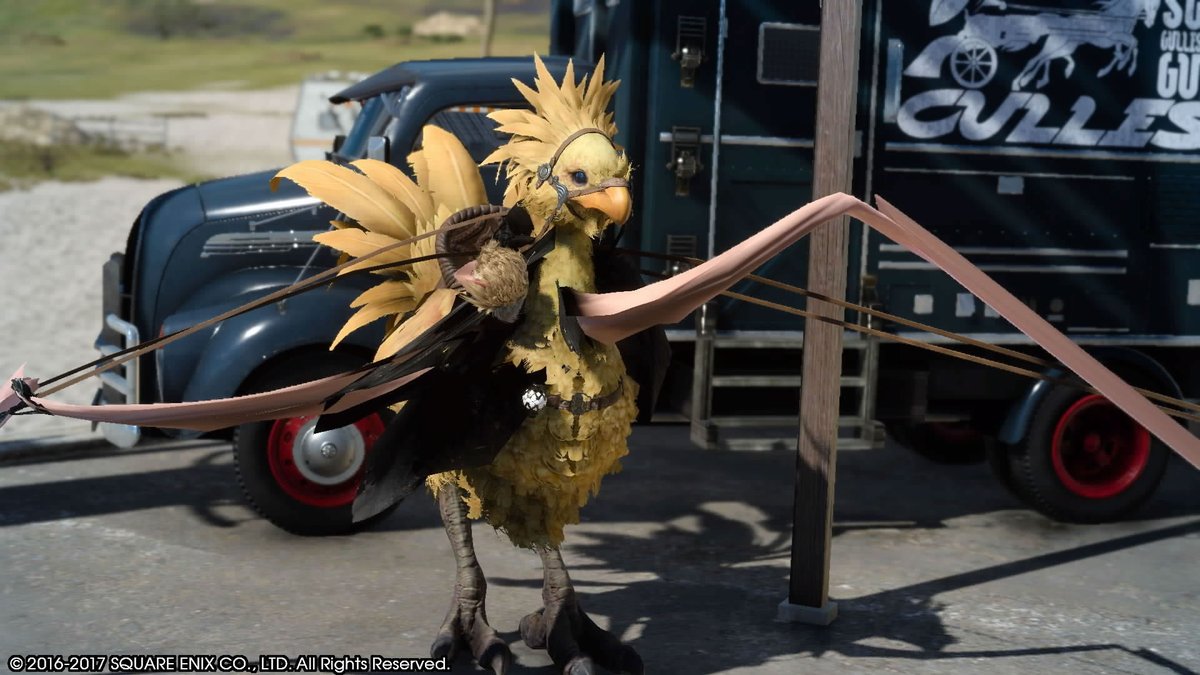 what
I CAN'T BELIEVE THIS PERFECT CHILD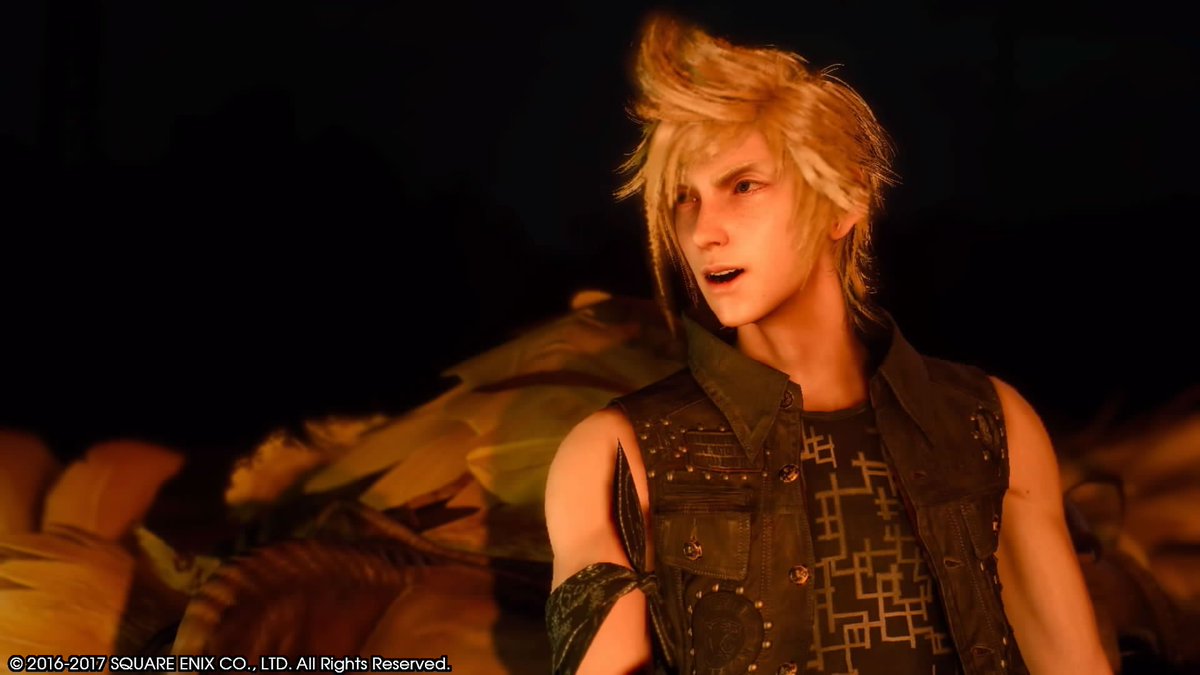 IS AN ELDRITCH ABOMINATION
Anyway, I remembered at work today that the reason I went back down to Ravatogh was to try that hunt for the AWFUL MURDER FLIES one last time, before I got sidetracked by tours. So. Here we are again.
wheeew, giving Ignis Regenerate was about the best idea I've had so far. We made it! Confusion and poison suck,
but we made it.
Okay. For
real
this time. C'mon, Iris, let's go on an awkward drive - OH GOD AM I GONNA HAVE TO GIVE HER THAT FLOWER GLADIO MADE US PICK
/immediately walks off to check hunts fuck I'm bad at this
SORRY AGAIN IRIS, I'LL BE BACK
hey, Ramuh, we actually had that in the bag but I ain't ever gonna miss a chance to summon if I can help it.
holy shit noct's eyes glow
I DO NOT KNOW HOW I DID NOT NOTICE THAT BEFORE I mean I noticed it in the cave but not during when I was summoning either of them. Too busy staring at the beard.
hahaha oh no Baco saw the tweet about Prompto being an abomination before the context SORRY BACO
Aaand the last hunt is in the rain and the forecast is clear skies. GUESS THAT'S JUST NOT HAPPENING.
I went fishing for a day, it's still nice out.
okay.
Progression.
FOR REALLY ACTUALLY REAL THIS TIME.
OKAY
YES
I KNOW I CAN'T COME BACK FOR FOREVER
LET'S GO
Smallest in the middle, that's car rules.
We did not give her the flower, if you were wondering.
Very probably it died sometime over the last twelve thousand game days.
DO NOT TALK TO ME ABOUT THE ROCK OF RAVATOGH
rip jared
Prompto, you never drive, I don't believe you.
NOCT, YOU ARE THE WORST AT DRIVING, DON'T EVEN PRETEND YOU DON'T KNOW THAT.
Noct awkwardly inviting her to move into the front so he can cuddle with Prompto instead. Rip both Noct and Iris's unfortunate crush.
(possibly for real if the Re-gay-lia works its magic on her)
IRIS NO NOT YOU TOO
SIT DOWN
SIT
SIT
Oh, yeah, asking her to wait with the car is
definitely
going to work, sure.
You think Iris is alright? Prompto asks, as if she's not ten feet back, stealthing her way along behind us.
NOW?! IT'S RAINING
NOW
????? ajdskfnakjfslak
don;t do it
don't
no
you already picked up anOTHER HUNT YOU STAY WHERE YOU ARE
Prompto
just one-hit KO'd one of these Imperials.
I am so overleveled.
I should feel bad about it, but fuck it, these guys are assholes.
Who are they talking about here, hmm? Highwind, duh - girl in this game? That's fine, but whoooooo.
I appear to have lost Ignis. Hope he's keeping up down there on the ground.
He is talking to me. In theory that means he is close. In practice, it appears to mean he is invisible.
bust-a-base bust-a-base
bust-a-base
Kinda sad I didn't get to call Ramuh down on their heads again, though, because that was fantastic.
Wow, hunters are useless. Can't even hold one dude.
Found the Dragoon. Must be Highwind.
Yep.
woah. I need a faster weapon for this fight.
oh no i think i like her
Where are Gladio and Prompto hiding? :\
Hm, here's Prompto from who knows where.
Whatever, GLADIO WE'RE LEAVING GET OUT HERE ALREADY
Oh, good, it's raining. The roof will be up.
guys
we already explored the malmalam thicket
remember? Bandersnatch? Tomb? Ringing any bells? No?
Well, far be it from me to pass up a chance to avoid progression.
YOU CAN'T HAVE MY CHOCOBO, IRIS.
oh wow her bird is
bright
SHIT I FORGOT TO GO DYE MY BIRDS DUMB COLOURS
oh my god her hit points are so
teeny
hahaha did she just throw a stuffed mog for a link strike, aw, Iris.
Man, though, watching her team up with Gladio to wreck shit is awesome. DEMOLISHMENT.
Gentiana strikes again. Pretty clearly this time, too. Last time I really only knew it was her because the guys commented on it.
Anyway, that was fun. Back towards Caem, though.
IRIS, FFS, SIT DOWN. I'M GONNA FEEL AWFUL IF SOMETHING HAPPENS TO YOU.
Ominous foreshadowing or just teenage angst?
hahaha, they're giving us so many chances to stop and dilly-dally.
These NPCs... I clearly did not put the base commander in the hospital if he escaped all on his own.
DEAR LORD THE SIZE OF THIS FISH
tide grouper is bigger than noct, what a beast, no wonder it took forever to reel this thing in
Okay, back into the car
again.
aaaaaaaand another stop-portunity. heh, I chocobo'd over here already, but,
I mean...
bbbbbbbbbbbbbbbbbbbbbbbbbbbbbbbbbbbbbbbb
bbbbbbbbbbbbbbbbbbbbbbbbbbbbbbbbbbbbbbbb
bbbbbbbbbbbbbbbbbbbbbbbbbbbbbbbbbbbbbbbb
bbbbbbbbbbbbbbbbbbbbbbbbbbbbbbbbbbbbb sazy says hi
ONE MORE TIME
awww, Prompto sets the table! LOOK, IRIS, IT'S NOT MY FAULT IGNIS IS THE ULTIMATE MOMFRIEND. He doesn't cook EVERY night. Just most of them. Sometimes we eat out. stop griefing me D:
I see the Hammerhead truck is here.
ugh, I'm gonna have to leave BEAUTIFUL CAR here, aren't I. oh no. :(
Bye, Iris.
Isn't it early on in things to be asking me to find mythril?
And another "IF YOU DO THIS YOU CAN'T COME BACK FOR EVERRRRRR."
WHAT
WHAT DO YOU MEAN YOU'RE LEAVING ME.
hahaha, defer to ignis is an option. MOOOOM....???
Gladio, you big meanie.
192/200, eek.
oh.
END OF CHAPTER.
Good, I was looking for a place to wrap this up at, anyway.
Hi, Luna! She looked really young there, I thought it was a flashback for a second.
I KNOW WHERE THE STUPID LAKE IS GEEZ
NOCT,
WHY ARE YOU DRIVING
um
thaaaaat was suspicious
OH, I CAN COMPLAIN ALL RIGHT, NOCT. HE'S A CREEPER AND I DON'T LIKE HIM.
Prompto wants to take a picture, I want to go to bed........ Hurry up and park us somewhere so I can call it a day.
son of a bitch!
hahaha I'm sorry, Prompto, I know you're upset he's off getting girls and you're not, but that was weirdly, adorably sincere.
Anyway, camping here near the photo spot. We'll get it in the morning, aight?
LET'S HAVE CUP NOODLES FOR DINNER JUST TO BE MEAN TO THE JERK WHO LEFT US ALL ALONE OUT HERE
nah, not really.
CONSIDERING THERE'S ONLY THREE OF YOU (DESPITE FOUR CHAIRS BEING OUT so sad they miss hiiiiim) I SHOULD HOPE YOU CAN STRETCH OUT A BIT IN THE TENT
These loading screens take so damn long.