I didn't do much besides game this weekend, if you were wondering.
DARK CLOUDS is not only the title of this chapter but giving me Ecco flashbacks, even though I think the level is Black Clouds, not Dark? Fucking Vortex. Fuck off.
WHAT DO YOU MEAN THE REGALIA IS MISSING
TITAN, IF YOU MESSED WITH MY CAR I'M GONNA KICK YOUR ASS
SOMEHOW
YOU BITCH
I'LL MESS YOU UP IN EORZEA
I can't believe everyone is the Empire is gonna be gay now. THAT'S WHAT YOU GET FOR STEALING MY REGAYLIA
I REGRET NEVER ACTUALLY TYPING "EVERYONE IN THIS CAR IS GAY" IN ANY OF THESE ENTRIES
Maybe they're all homophobes and wouldn't have stolen it if they knew.
Fuck. At least we have chocobos.
PROMPTO, DO NOT SUGGEST THAT GROSS PERSON TO HELP US.
DOGGOOOOOOOOOooooo
bark!
Who the hell is Gentiana. Why is she being creepy.
Oh. Thanks, Ignis. I can always count on you for explanations.
I never know how to answer this book, we don't really see many of their interactions.
How does child-Noctis know almost nothing of his own family while Luna does?
I HAVE TO FIND THE THREE RUNESTONES OF BEARD.
FUCK YOU, BEARD, YOU'RE NOT MY BOSS.
I'LL COME BEAT YOUR ASS UP IN EORZEA, TOO.
BITCH.
anyway.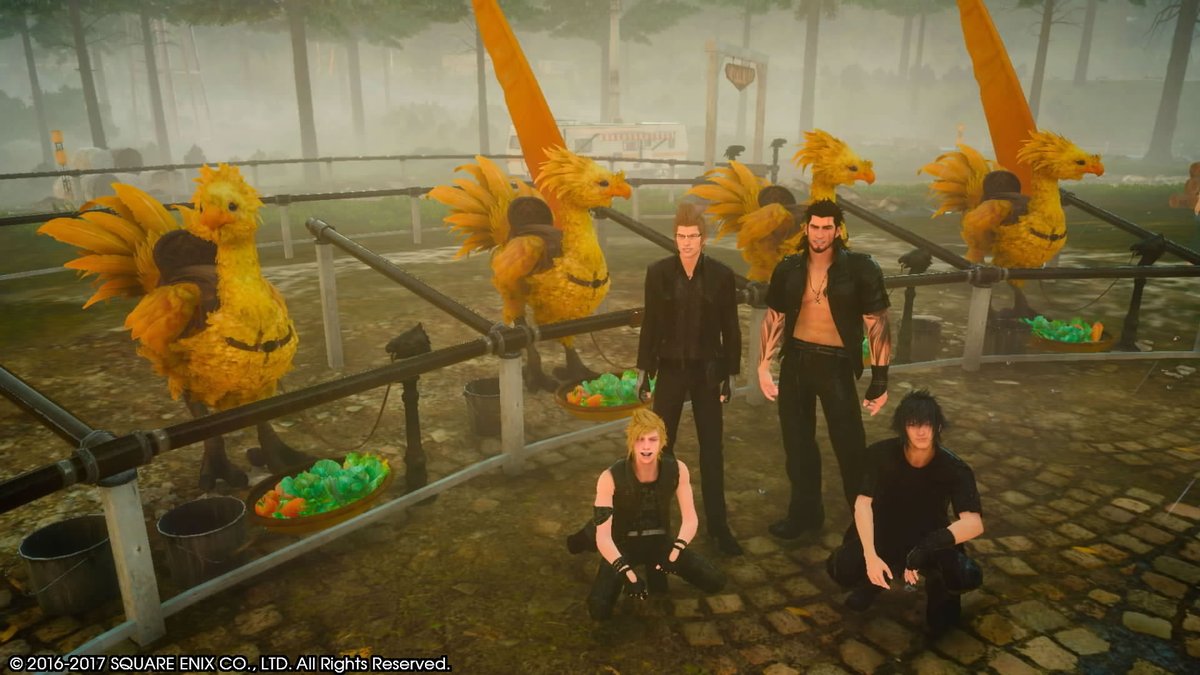 "Ramah" excuse you Gladio. (Maybe Ram-uh is the correct pronunciation, I've only ever heard people say Ra-moo.)
awww, haha, tiny Noct. "Yeah! Lunafrr-rr... Luna!"
Seriously, though, why do I have a "summon enemies" whistle?
How do they know when he hears talking, do we make a face?
woah okay what is that bird just flying there that we just zoomed past?
hahaha these nerds, it's raining so they all huddle in the tent miserable. THIS IS ONLY THE TRUTH OF CAMPING IN THE RAIN. I'm sorry, boys. Let's just have cup noodles and call it a night.
I wanna goof off but this rain is dreary and I'm pretty sure it'll only stop once I go get the third Ramuh runestone.
Oh jesus, hahaha, those bats...! I was not expecting non-enemies to come at me quickly, I scared the cat right off the bed with the force of my inhale. I'm sorry, Sazy! :( No more running and no more jumping, haha.
hahaha, finally Gladio complains about the little crawl spaces being tiny. PROMPTO IS ALSO STUCK OH NO
I was very confused and alarmed by Ignis showing up completely ahead of me, but I think he just jumped down from that cliff we were just at the top of.
Well, that was gross and unsettling.
I tried to start through the little narrow passage and OH NO IMPS and the camera just
zoomed right it on it as it crawled along the walls of the passage at me and I couldn't get away from it until I'd backed all the way out
I don't like their faces, eugh.
Seriously, that was awful.
What
is
that sound? Huh.
PROMPTO JUST GOT EATEN?! WTF?? NO
LEAVE MY SELFIE CHILD ALONE
oh my god where is he???
THERE
THANK GOODNESS
PROMPTO WHAT THE FUCK DON'T EVER GET GRABBED BY A SNAKE AGAIN
... odd. I went into one of the dead-ends (there's a pool of water, it's kinda creepy) and a trio of imps spawned, but they just hightailed it outta there instead of trying to fight me.
"She's here" who? The snake again? Chill out, man. It's MY job to freak out if you get nabbed again.
Wow, this sure is a suspiciously wide open area. Bet there's definitely not a fight here.
Ah, not just a snake. NAGA.
Were we supposed to be able to understand that? God. I've asked that so many times. I'm giving up and turning on the damn subtitles.
Does she attack you either way? I got turned into a toad, that was fun.
Another mystery door.
ALL RIGHT! LET'S TOUCH THIS ROCK.
AND GET ELECTRIFIED.
Hi, Beard.
PROMPTO, FIRE AND BRIMSTONE WAS TITAN.
YOU WERE THERE.
I don't know what that's gonna leave for Ifrit, maybe he's not in this game.
DID YOU FIND MY BABY?
YOU DID!!!
I KNEW THOSE FUCKS HAD HER.
I WANTED TO HEAR THE ANSWER TO THAT QUESTION, GLADIO, THANKS FOR INTERRUPTING, GDI
I wonder if they kidnapped Iris, too, somehow, when they got the Regaylia.
wtf is this red shit in the air
Coeurls are still fucking awful, by the way. I'm like ten levels above this guy and he's still managing to knock me over my own feet with ease.
jfc i can't believe they stopped for a selfie with the snake
literally right there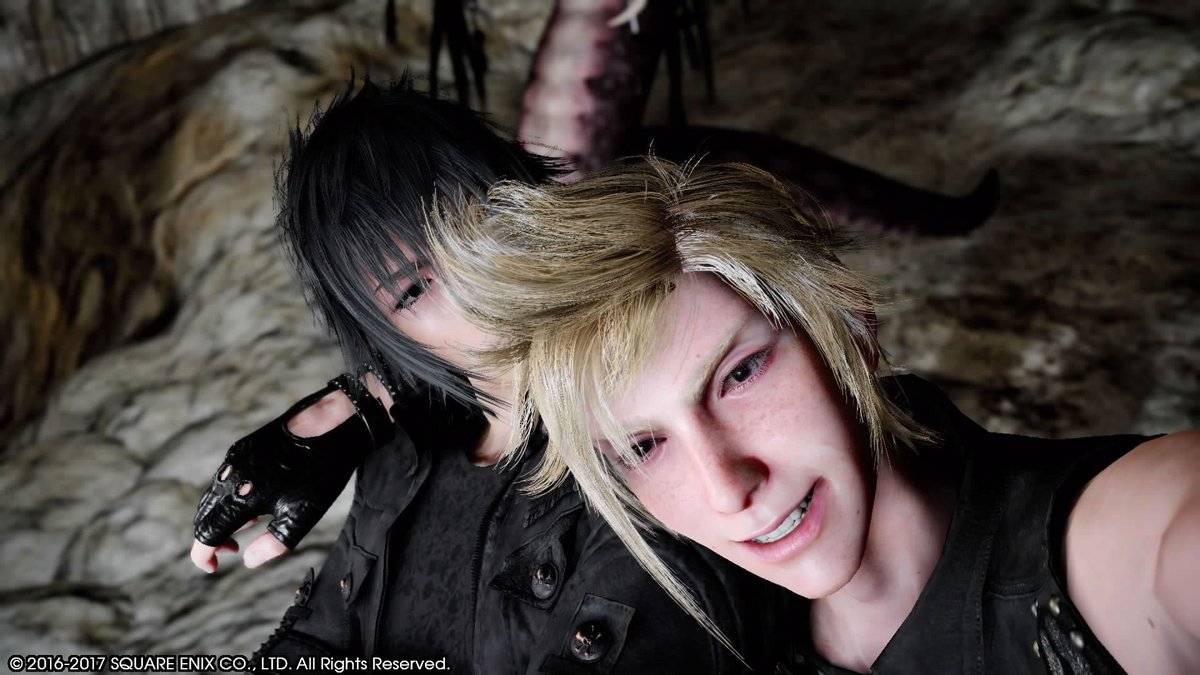 Also Prompto is working on his rainbow filters.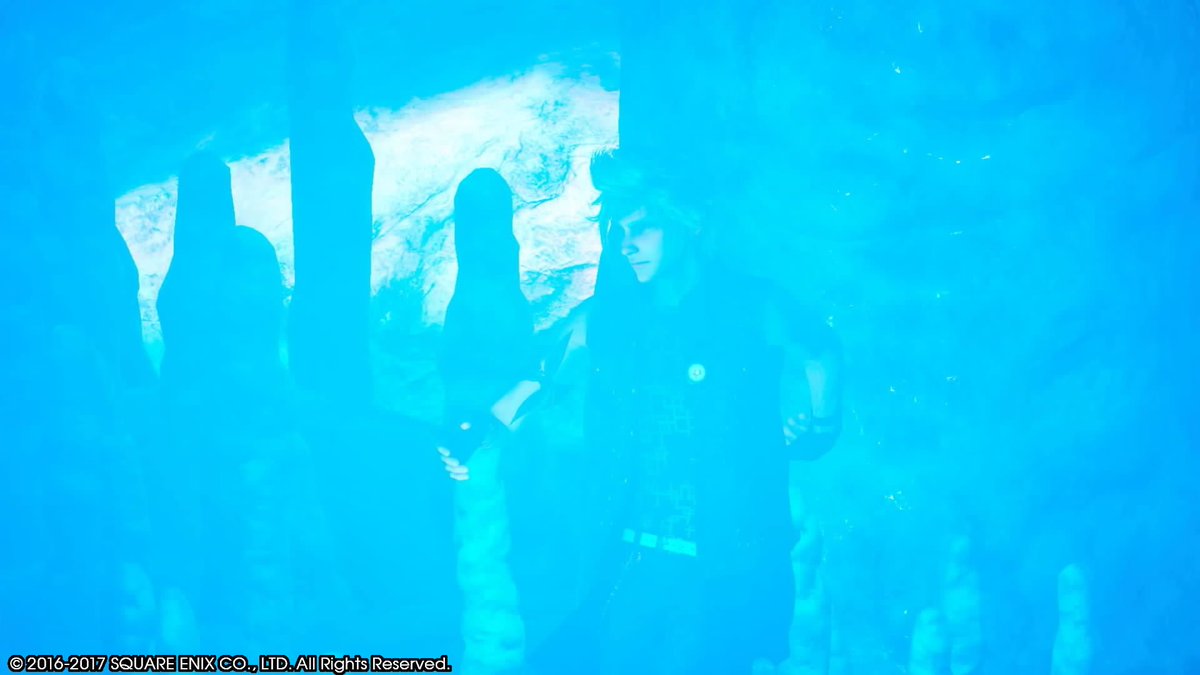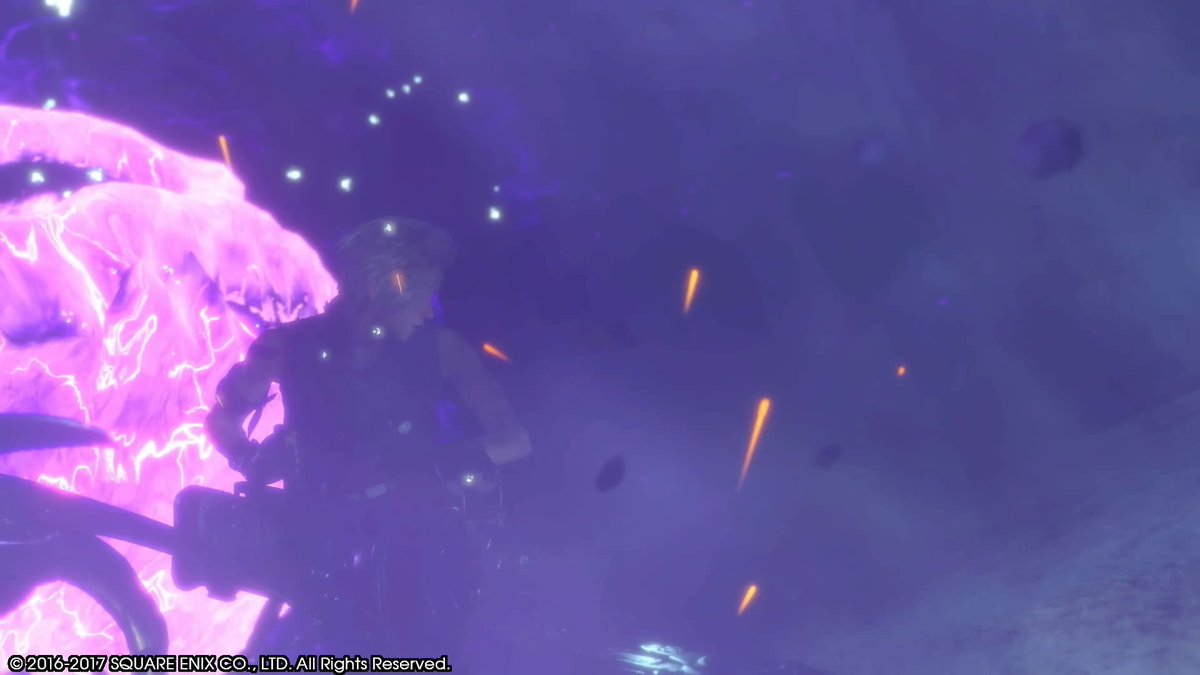 I just wanna know who's taking all these pics of him.
I GUESS WE'RE BREAKING INTO THE BASE NOW OKAY WOO
THIS WILL BE A MESS
These bases look a lot like what the Garleans build. Eh, one Empire's the same as any other, I guess.
... well, I'm glad my party members don't set off the search lights, because otherwise, Prompto, we would be
having words.
Oh, apparently that one doesn't count, anyway.
shit
, guys, even Ramuh thinks you should've left CAR alone.
BUST-A-BASE.
I can't find my way outta this maze.
ah, there.
CAAAAAAAAAAAAAAAAAAAAAR
ew, it's Ravus.
BITCH YOU LEAVE GLADIO ALONE
ew, it's Ardyn.
ugh this poor car looks so bad
wait why am I driving.
Ignis, what the fuck. Get in the driver's seat.
Okay well first thing's first, I hear Cidney can fix my car.
uugh that's
so much better.
Bless you, Cidney.
It always confuses me a moment when combat pauses to let my chocobo run in and do something.
holyshit
Okay so I really want to get Rank 4 hunter so I can finally do the quest for Takka and I'm having trouble finding ones to do, so I went ahead and accepted the coeurl one because I am a
moron
and I just got full one-hit KO'd. ALL THE WAY TO DEAD IN ONE HIT. Daaaamn, this was such a mistake, hahaha.
Was that Ramuh-prompt or just Coeurls being awful? I DON'T KNOW I'M NEW TO BOTH BEING ABLE TO SUMMON AND FIGHTING COEURL
Well, if it
was
Ramuh, then I must not have held the button enough or something, but EITHER WAY: GOT ONE DOWN.
TWO DOWN!!
Oh, it's back. Yeah, that's Ramuh prompt. NUKE THEIR SHIT, BEARD!!!
b e a u t i f u l
Thanks, man, I take back promising to go kick your ass in Eorzea.
Man, you really have to hold that, though, don't you. Super bummed I missed it earlier, that could've been over a lot faster with way fewer hi-pots used.
Guys, please stop interrupting actual talking to shout about Imperials in the sky.
This goes double for when we are
in a damn tunnel.
Huh. Arachne can ambush you in tunnels.
HEY I FOUND A CAVE
LET'S GO IIIIN
Hmmm, level 41s right at the entrance. So it'll be an
exciting
cave! Prompto's just hoping for some treasure.
HECTEYES SHOOT LASERS
I thought it was a dead end but really it was a sliding slope of landing in a field of laserjerks.
Gladio, considering you shoved me down here, you should really be hopping after a bit faster. Even Prompto beat you, and he's easily distracted!
This water is hella green. I bet it does something gross like --- ah, like poison, thanks, Prompto.
Nothing for it, though.
THERE'S FISHING DOWN HERE
OOOHOHOHOHOHO
Damn, nothing biting on any lure.
I'm sorry, Noct. :(
GLADIO IS A ROCK it's okay I got gold needles,
I was ready for this eventuality.
Hey, we found the scaffolding!
Hey, I fell off the scaffolding! New record.
are... you guys..... gonna come down, too?
...... no.
Right, then. See you in a few, I guess.
Ah, here's Ignis with the sense to backtrack rather than just jump down.
And Gladio.
Did you guys just leave Prompto behind or something.
Ah, he didn't want to run through the poison with the mobs still in it. FINE, we can kill them.
I REFOUND THE SCAFFOLDING.
I HAVE LOWERED THE LADDER.
GOOD JOB, TEAM.
No, Prompto, you have not mentioned you are acrophobic. I'm proud of you for having made it this far, we've been on a lot of ledges like this. Ravatogh comes to mind.
Ignis, I love you, but telling him to fear falling instead ... isn't really that helpful.
Hmm, another dead end? All this for a dead end?
... and an Iron Giant?
Heeeey, in combat I can warp over to that platform. You guys are on your own for the hecteyes, I gotta be up here so I can lower this ladder. hahaha!
InB4 ANOTHER LOCKED DOOR
oh shit did I call that or what
"prince charmless" lolll I like it
All right, back out, then back in so we can go the other way.
Claustrophobic, too? Man, how've you made it this far?
Ah, it just circles around.
Oh, another fishing spot! And a tackle shop! I wonder if any of these would work in the cave... There should be some kind of hint system, at
least
, bleaugh.
CAUGHT A FISH
GOOD JOB, NOCT! :D
SNAKEHEAAAAAAAAAAAD
Everyone is so proud ;o;
Damn it, though, I really want to take these new lures and go back into the cave tomorrow.
Feck it, I'm doing it. BRACE YOURSELF, DAURELL CAVE. I'M COMING BACK TOMORROW.
OKAY SERIOUSLY THOUGH IT'S 1 AM I'VE BEEN HERE FOR HOURS, WHERE ARE THESE STUPID IRON GIANTS I'M SUPPOSED TO BE HUNTING
SPAWN, ASSHOLES.
YOU'LL PROBABLY KILL ME, I MEAN, THERE WILL BE TWO OF YOU
BUT STILL I GOTTA TRY
Ugh, forget this. CAVE.
EXCELLENT, THEY LIKE THIS LURE.
Is that a catfish? It kinda looked like a catfish. I forgot to change the line, so there's no way I'm reeling this in.
And now I can't find it again, just these Cave Dace.
Okay, this isn't the weird thing I saw, but at least it's something different.
That's enough for now, I guess. I caught a BIG FISH and everyone is happy, and it's coming back around towards evening.
Ah,
finally
, this time they spawn.
Oh, guess the purple wasn't Ramuh-specific. HI TITAN. lol, damn, I was about to run. Nice timing, man.
uugh three days awake, I am so sorry, guys. Though, hey, that's A LOT of experience, nice. Three levels. And almost two levels on fishing.
GENTIANA PHOTOBOMBED ME
... and apparently you get a trophy for it, haha.
OKAY LET'S GO GET WHATEVER THE HECK IT IS I'M SUPPOSED TO KILL FOR TAKKA TO MAKE FOOD WITH
Of course, I do not remember which of these it might be.
IT'S HAPPENING AGAIN?
WHERE ARE THE HUNT TARGETS?? THE TIME OF DAY IS RIGHT???? It's like lagging in a MMO, except it's SINGLE PLAYER OFFLINE.
Like there's nothing. No voretooth things, not even any catoblepas.
Ah. I started fishing, SUDDENLY CATOBLEPAS EVERYWHERE. Perhaps the hunt targets have spawned now, too.
Nope.
FUCK IIIIT /makes camp
And they're still not here, so uh. I'm gonna assume it's not this one and go get the catoblepas one.
I can't believe my chocobo has beat everyone but Prompto to rank 10.
GUYS
GUYS THE CHOCOBOS CAN SWIM OH MY GOD I NEVER EVEN TRIED I JUST SAW IGNIS OUT IN THE MIDDLE OF FUCKING NOWHERE AND WAS LIKE
CAN I GO THERE??
AND I CAN
BECAUSE
THEY CAN SWIM.
AAAAAAAAAAAAAAAAAAAAAAAAA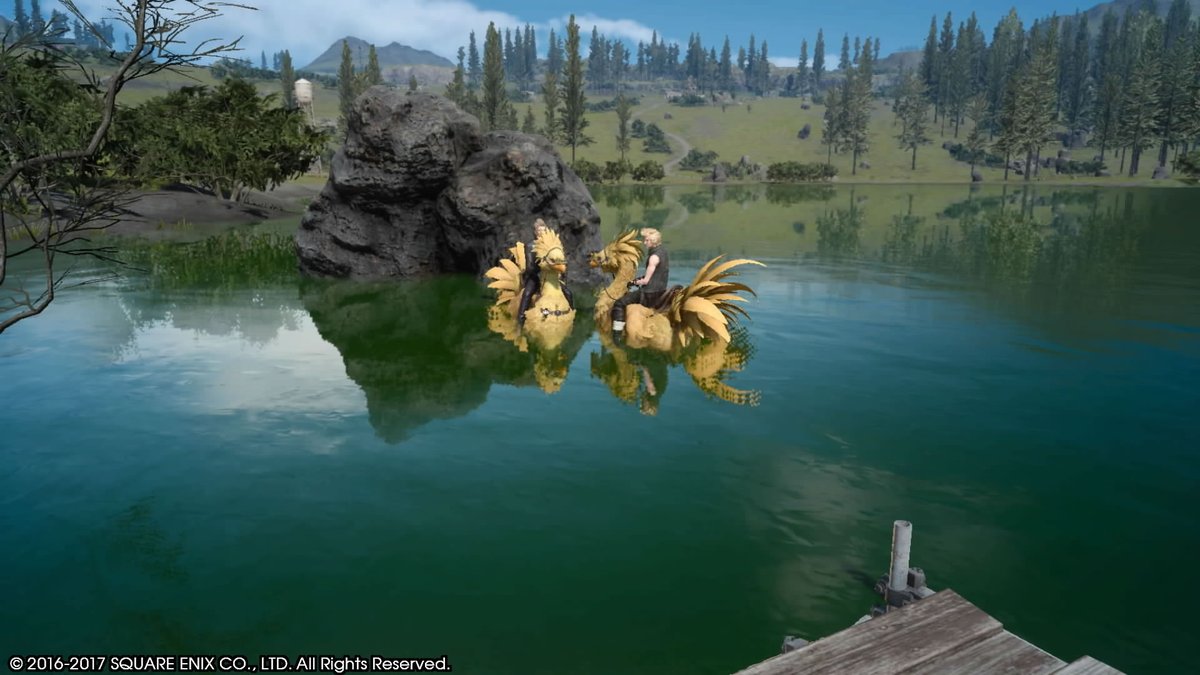 Okay so we're trying again after a restart because I just want to finish this stupid quest I CANNOT SLEEP UNTIL I HAVE SOLVED IT
oh thank goodness, it's here now.
Okay, look, I expect it from Prompto, but Ignis, could you TRY to not be directly under the feet every time they come down?
Nice work. You want a hotel after that? Okay, fine. It's been a while since we hotel'd it up. Stop moping about camping, I promise we're just going to the car, so long as none of you whine when we start driving.
Oh. We got ambushed by Iris. SO MUCH FOR STRAIGHT TO BED.
NOW IT'S BAD NEWS AND CRYING TIME INSTEAD.
rip jared :(
For real, though, is Prompto just teaching everyone else how to use a camera now or something? He is in SO MANY OF THESE and often quite far from the camera.
I can't believe Noct is dreaming a music video.
NO NOT DOG NOCT YOUR SUBCONSCIOUS IS AN ASSHOLE
that was trippy
AND NOW IT'S CHAPTER SIX. GUESS THIS IS ANOTHER ONE AND DONE CHAPTER. Chapter three remains the victor.
We're... bringing Iris
with us?
uh.
Shit, this is gonna be some awkward sidequesting, isn't it.
Well, uh. It is what it is, I guess.
WE'LL FIND OUT SOME OTHER DAY.
wait you're kidding me all that and i didn't actually get the drop i needed for this stupid quest ARE YOU KIDDING ME
ffffffffffffffffffffffffffffffffffffffff
ffffffffffffffffff
Seriously contemplating ditching the FFXV tag altogether since "these idiots" is the same thing.