MORE NOTHING!!!!!
So I guess there isn't a "hidden" trailer on the title screen. I let it sit a few minutes because I was tweeting with FC folk and nothing happened.
Where the
hell
did I leave the car, why is it almost 4 miles away. What happened last night while I was being excited about posting screenshots.
Oh, aaaaall the way back in Lestallum.
Okay, let's start with the farthest away quest and work our way back in.
Noct and I both looking back wondering if we should have filled the gas tank again before we left. Too late now.
Ignis, stop turning the music off.
I know it's you,
Ignis.I watched Brotherhood, Ignis.
Yeeeaaaah, definitely should've bought gas. This might be close. Just because cars in real life can go a ways with the light on doesn't mean the Regalia will.
Noct, Prompto, if we ever get in a car accident, one of you is going to die, and the rest of us will be SO SAD.
Stop standing up in the car.
Can you actually get in accidents? I trust Ignis, but sometimes I accidentally take the wheel.
Ah, good, the quest stop is at a gas station. WE'RE OKAY, GUYS.
NOCT, LOOK, A POSTER OF ONE OF YOUR FAVOURITE MEALS: FRENCH FRIES. This boy, I swear.
I am happy to report that Prompto make it out the door on his first try this time.
MORE DOG TAGS
Trap clearing, I dunno, I'm not looking forward to stepping in these suckers.
Oh, thank goodness, you can't.
Also thank goodness he knows how to disarm these things.
Sadly, like the frogs, I am very bad at finding them. And, unlike the frogs, they don't ribbit to let me know when I'm close.
Got really excited, thinking I'd found the last one, but it was just one of the same four I'd already found, alas, alas. :(
AH.
IT'S ON THE OTHER SIDE OF THE FENCE.
Damn, the next hunt is coeurls. I'm not up to those yet, as the one that just nuked my party can attest to.
Also damn, there's no campsite nearby. Gross.
What is Gladio reading that is so interesting, though, you can't just wave books in front of me like this without letting me look at them.
Hahaha, I got three indecipherable pictures in this lot. One is some kind of plant, very green. The other two, uh, no idea. Dark. Shapes? STUFF. Someone get this kid a flashbulb.
YEAH REMEMBER HOW I SAID YOU WERE GONNA GET THROWN OUT OF THE CAR, NOCT? DID YOU SEE HOW CLOSE YOU CAME TO GOING OFF INTO OBLIVION RIGHT THERE? I'm too old for this game, I swear.
...oh god, someone's probably written that.
Oh,
this
clearing. I remember running for my life outta here a while back.
So, I suspect this is some long lost
Kingdom Hearts
-level stuff cropping up, here, but I've taken to jumping before attacking. GOTTA GET DEM AIR COMBOS.
How long exactly as we going to be driving backwards for? Ignis. Where are you taking us.
See, at least this time we're slowing down for critters in the road. Seriously, what was that long backwards trip about. You just trolling?
haa, these poor guys (especially Ignis) must find this so confusing. Noct: will not eat the vegetables, so help you. Also Noct: IGNIS STOP THE CAR **IMMEDIATELY** I SAW A PLANT I MUST PICK IT AAAAAAA
Ah, nice, mega-phoenix!
Hrrrm I was gonna just leave these Imperials, but they're in the road and Ignis prooobably won't just drive through them.
Ignis, I know you hate driving at night, but we are in the actual MIDDLE OF NOWHERE and I just wasted like two hours looking for a campsite, okay, just deal.
There, see, look at that, it's barely 11 and we're safely to a rest stop.
Where have the Iron Giants gone to, anyway, do they just not spawn in this area?
Prompto's selfie game is improving. :D
I thought Prompto was gonna yell at me for hitting him but he was just making the ridiculous comment I used as an entry title.
"uh...
harvest?
" noct, what do you think all that plant picking you do all day is
I can't believe we're stealing the very peas we were sent out to harvest. (Technically we were sent for beans, I guess that makes it okay.)
Oh, hey, Kujata! I see you're still wandering around out here.
Ignis, we are literally on our way into town
right this second.
But sure. Let's head back into town for the night.
I suspect finishing the drive would have taken less time than those loading screens, hahaha.
Ha, the guy we picked beans for is trying to pawn some off on Noct. You need the one with glasses, man. The one giving Noct shit right this second.
The one that, suspiciously, no one can recall how he acted as a child. Definitely, absolutely not like the one we just completed a quest for, though. TOTALLY NOT LIKE THAT.
I don't understand how these guys go to bed after 2 in the morning and are up and ready to go by 6. MY IMMERSION, SQUEENIX.
Sahagin are very gator-y in this game.
Their teeth can skin a fish alive! DON'T GET BIT.
/immediately bitten
rip noct
AW NICE THEY EVEN DO THE KILL ROLL
Woah,
FIVE
discs for XI!
Oh, for crying out loud.
I finally selected the Sell option and there is an ENTIRE
TAB
OF SHIT I CAN SELL FOR GIL
Not all of it obviously, I'm not an
idiot
but a few of these, a few of those, and, bam.
Solved the money issue
I'd wondered at a lot of the stuff I've picked up,
honestly
, you should have known better, self.
IGNIS YOU SCARED THE DAMN FISH OFF DON'T THINK IT WAS A COINCIDENCE THAT AS SOON AS YOU SAID YOU WANTED THE LIGHTS ON THE FISH SWAM AWAY
OKAY WHAT IS THIS ARE THEY BREAKDANCING OR .......?????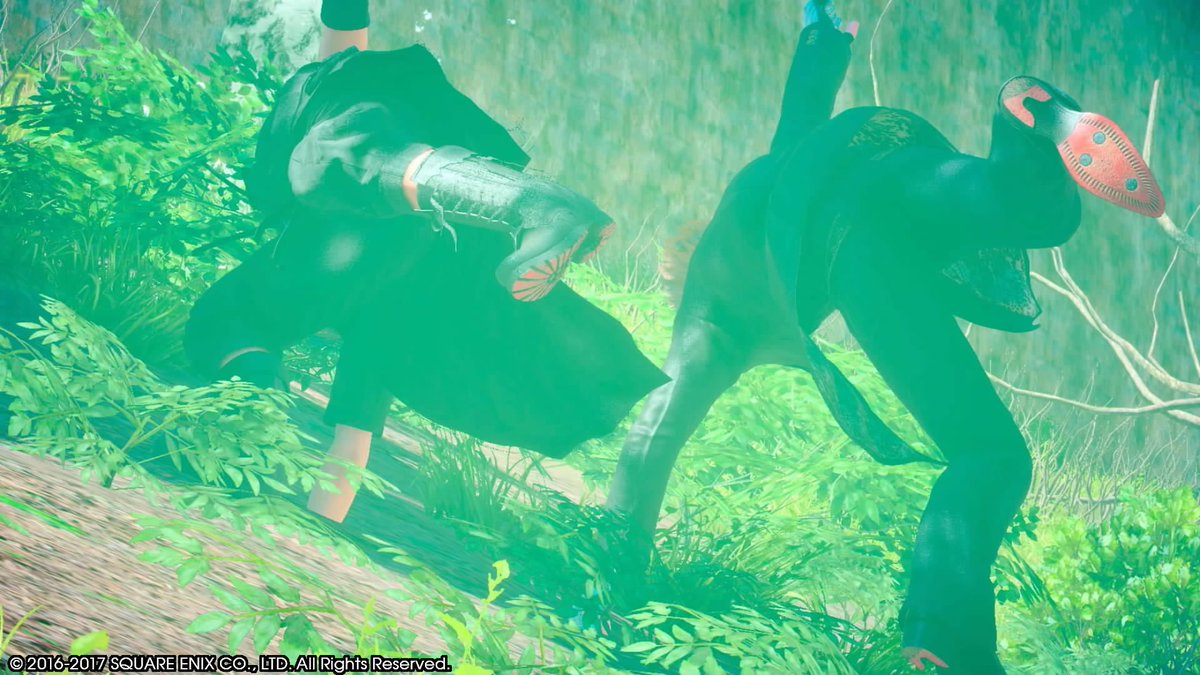 I must not have whatever lure this fish wants, all I'm getting are rainbow trout.
Oh.... :( I had something but the line went from perfect to snapped before I could reel it in all the way, and now I'm really sad. :( :( :(
COMPLAIN ALL YOU LIKE, this poor kid has exactly one interest in life and we never actually do it, while we hike and cook and take pictures
all over the place.
I have strategically placed my car where I want to go next, so when I'm done catching fish I can just warp over to it. Bwahaha.
Someone just sneezed, not sure who. Gonna assume Prompto.
YOU'RE RIGHT, CAMPING DOES SUCK WHEN IT'S RAINING. SHUT UP, GLADIO, IT'S VALID.
Oh, nice, an entire level in fishing, plus a little extra.
Oh! And there's the cherrycomb one! I guess this lure works after all. WAS A RISK, BUT IT PAID OFF. Can you even get a new tonberry one? I dunno.
Whaaaaat a new rod?! AWESOME.
oooooooh dear where the hell did this midgardsormr come from it was
not there
twelve seconds ago when I was killing the hunt targets! HOW AM I SUPPOSED TO LEAVE THIS TEENY LITTLE PENINSULA NOW?! (My chocobo will save me, of course.)
I appreciate that even the game is capable of acknowledging when a terrible picture has been taken, haha.
Anyway, here is Large Man Yells At Nothing: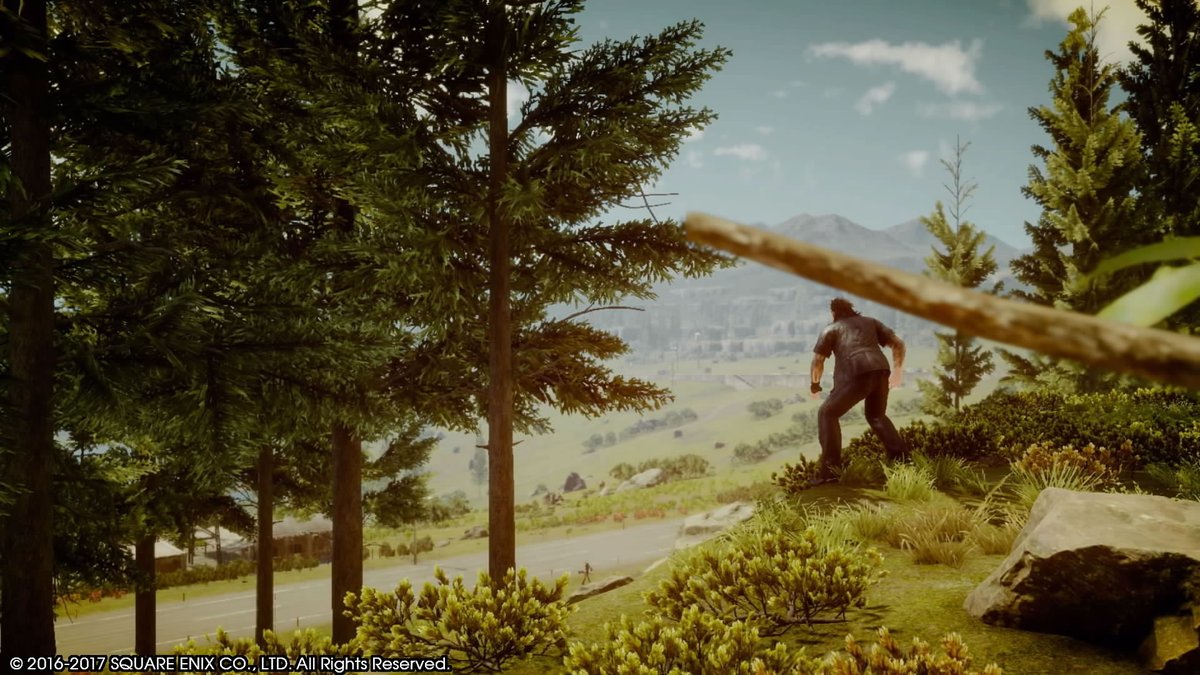 I still can't read whatever Gladio has. He rude.
haha. "Hey, I may have asked before--" starts Noct, about to inquire
once more
about ebony, but Gladio looks over - HEY. You think that's the delivery van? (I am certain it is, but we'll hit it on the way back.) Thanks for saving Ignis having to answer again, though, man.
I am thoroughly enjoying Prompto being disappointed by what the heliodor looks like.
Noct wishes Ignis would get off his case about getting up in the morning.
Considering this teenager is up and ready to go by 6am, I'm not sure he's wrong. Ignis, if he's sleeping too late now, what the actual hell do you consider an early enough rise time?!
Anyway, beach training with Gladio, since that... probably won't help at all, let's be real.
That's a really long way to run. Why are you bullying meeee.
O no, the rain woke Noctis up from his car nap. Poor baby.
.... aaand he's back out.
It was that early morning sand sprint, wore him right out.
P: WAS THAT WHAT I THINK IT WAS
I: I don't know. Looked daemonic to
me
.
Aren't you glad you kept driving? I didn't see it, just the red aggro bar. But still.
Ah, damnit, this one's in the road ahead of us.
WELL. I WAS WANTED TO SEE HOW WE FARED NOW THAT WE'RE LEVEL 30.
Okay, getting grabbed hurts
a lot
, but we CAN kill them. Woo.
aaaa they finally called Prompto on taking pictures in battle - he got a shot of Noct being squeezed half to death. Thanks, man.
How does aegir root taste? Like... something.... good? Yes, that is very convincing, Noct, I am certain he did not hear the question mark at the end.
haha, I pulled over to pick up a treasure and Gladio complained that his ass is killing him.
oooh whoops lol, ran outta gas. IT WAS BOUND TO HAPPEN EVENTUALLY and I was not watching the screen at aaaall for that drive.
Whatever, we're close enough to the quest target.
Oh, no, Ignis broke. He's hopping on top of a crab's corpse and he doesn't appear to be able to stop.
I don't wanna just walk off until he warps up to the rest of us, haha.... Chocobos, maybe?
yeah, that got him.
uugh I'm gonna have to start deleting pictures soon. As least now I can post them to twitter as a way of saving them?
Aaaa I usually don't bother to get the camera turned around, but this time when Prompto (whose name I will never ever
ever
be able to type correctly on the first attempt) and Ignis declared they wanted to go shop, I got to watch as they both actually ran into the store, omg. Everything about this game is wonderful. I don't want to advance the plot because what if something terrible happens to any of them. I will die. Murdered.
Debating the ethics of keeping chocobos.
That feeling when the level 17 Ronin mob gave you more trouble that the level 30 Iron Giant.
Of course, the Ronin had the decency to not come back as a higher level monster.
More terrible pictures of Noct being bad. "
God
damn it." Sorry, kid, I'm with those two. It's funny.
MORE PICTURES OF NOCT'S BUTT AS HE GETS ON HIS CHOCOBO. This is starting to get weird, Prompto.
Man.
I just killed a griffin for a hunt but I feel really bad about it.
I enjoy how sometimes if Ignis gets ahead of you he'll do this stupid little turn-around thing like, is Noct still back there? He hadn't better have wandered off or fallen asleep again. Meanwhile Prompto is like a mile ahead of us, worry-free.
IGNIS, CUP NOODLES ISN'T A RECIPE, IT'S A PREMADE FOOD THAT YOU BUY.
hahaha they want me to deal at least 15,500 damage? That's not happening.
That: happens.
I don't understand
Prompto had a
really
bad
picture
day
.
Also it's starting to get weird, the number of shots Prompto takes of Noct's butt as he gets on his chocobo. [Edit: oh I said this above. STILL, THERE'S LIKE AT LEAST TWO IN EVERY SET]
d'awwwwwwwww Iggyyyyyyyyyyyyy he noticed Noct's shirt button is coming loose CAN'T HAVE THAT, I WILL MEND IT and noct is just like omg mom stop
Can't believe Gladio is giving me shit for using a big sword. Man. Check yourself.
ALSO I LOVE WHEN THEY LIKE HIGH-FIVE IN BATTLE AND STUFF
Noct has not seen to his shirt yet ahaha you been called out, kiddo.
Ignis flat-out calling this one Kenny's Original Recipe, well, I guess at least you're not pretending you created it this time.
today was a better picture day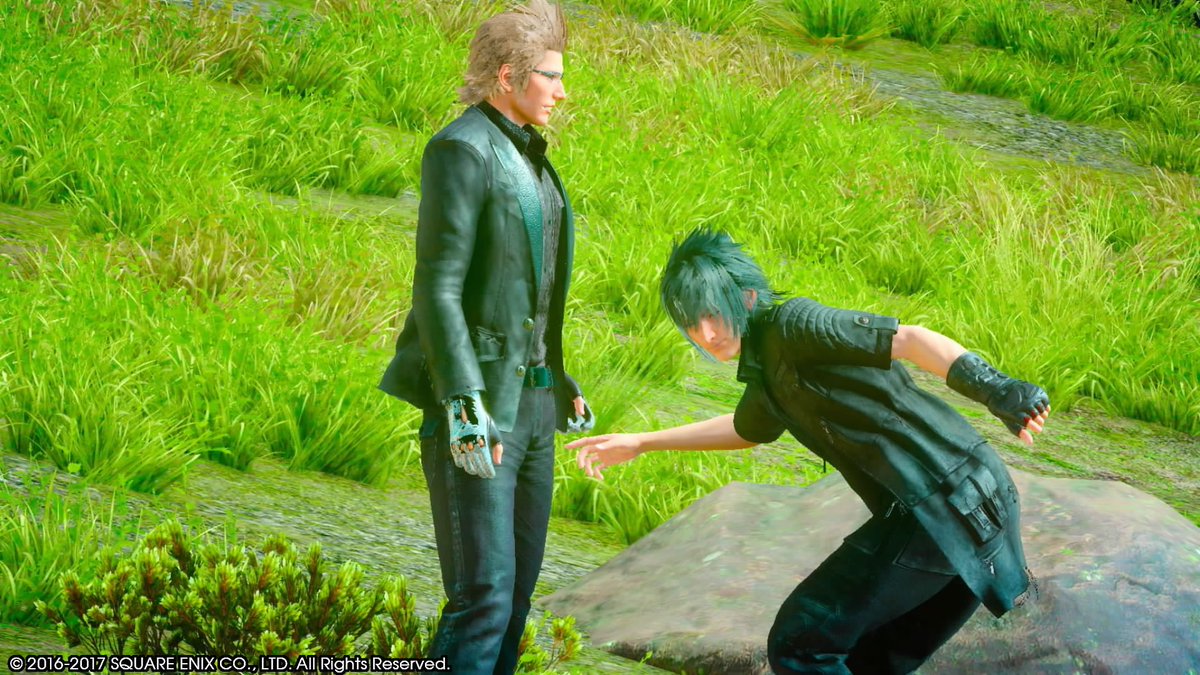 Everyone (NPCs included) always talking about how weird the weather is. Is there some kind of impending natural disaster? Or... something? It's so pervasive it's really begun to feel like foreshadowing.
I dunno if it's me thinking it's weird because Noct seemed to think it was weird, but I don't really like this new photo quest, taking pictures of the tombs.
"Try not to get lost."
"
YOU
GET LOST"
Noct confirmed 12 years old.
All this talk about Prompto being weak and out of shape and having no leg muscle, but the Brotherhood episode about him was how he took up running, which, uh. Legs of death?
I guess he could've given it up.
hoooo
I went into the Rock of Ravatogh dungeon, by the way. This really is a hell of a climb, shit. Thank god you can't actually fall off the side, becaues, haha, ha, uh. Super dead prince.
Nice, lava. Well, glowing, heat-simmering rock. I guess it's not quiiite lava. LET'S WALK ON IT.
WOOHOOOOO
hahaha we're camping on the volcano. NICE.
This place is reminding me of a mix of Attohwa Chasm and Ifrit's Cauldron, both from FFXI.
Down where? What's what?! Gladio, you can't just say things like that and then not offer anything else.
"Watch your step, kids."
"No room for slip-ups, Noct."
"I'M NOT THE CLUMSY ONE"
oh honey are we playing different games?
oh. Thiiiis is a nest. With eggs in it.
Let's not be here when the parents get back.
Here I was thinking antlions, maybe, geez.
Oh, a tomb.
... I should probably have seen this coming, dungeons so rarely exist for their own sake.
Shit, that means I gotta go back to the ... mamalaam?? place. Malmalam. Thicket. Place.
Unfortunately for me, I hadn't finished looking around up top before I fell, so it's BACK UP THE HILL OF DESPAIR.
oooh, that IS lava, though!
I guess that was all.
Now
I'm done here.
YOU FUCKER, I WAS JUST UP THAT DAMN MOUNTAIN
/rageclimbing
Oh, great, he was gonna sell us out. Good thing Prompto has a camera. Christ.
Aight, killed the bombs, let's get the hell outta here before - nope, there it is. DO NOT ENGAGE THAT SNAKE.
Okay I like that the caravans cost less than a hotel and are at the rest stops, but doesn't anyone think it's weird that we just walk in? Who owns these things? Why are they always there to be used?!
142/200........
YOU DON'T WANT TO HELP ME YOU WERE GOING TO SELL ME OUT. I mean okay fair you
didn't.
I CAN'T BELIEVE THESE JERKS JUST DECIDED TO FALL OUT OF THEIR DROPSHIP INTO PROMPTO'S PICTURE OF THEIR BASE THAT IS
SO INCONSIDERATE.
OH, AND NOW IT'S TOO DARK?
ANY EXCUSE WITH YOU.
Another dropship at the next base.
Gladio, I
can't
take them out one at a time, HAVE YOU SEEN THE SWING RADIUS ON THIS SWORD
I'm so glad I finally figured out that fast travel doesn't use gas.
Anyway, time for base three, with, I am sure, dropship three coming to interrupt us.
SURPRISE
(NOT)
Can we even get to this next photo destination? The car seems to think so. GUESS WE'LL FIND OUT.
Okay so the car got us this far, but it's still almost 7 miles off and apparently in the middle of the ocean.
\o.O/
I got nothing. Guess we'll come back later.
Anyway, let's knock this damn thicket out so we can finally get back to the story, because otherwise it's hunts I can't do (either rank or WEATHER YOU DAMN FROGS) or quests I can't get to.
G: *deathblow*
NO. MERCY.
P: h-hey...!
G: er, sorry
Dannng, bandersnatch is huge. And he got the scary music.
And, tada, there's a tomb.
oh, nice. I went to the frog hunt location one last time,
just in case
, and it's raining!
NOW THEY DIE
... EVENTUALLY
STOP THROWING ME BACKWARDS WITH YOUR HIDEOUS TONGUES
PS I hate alba they are awful
NEXT TIME: ACTUAL PROGRESSION(?????)