okay I went back to FFXIV for a few days because NEW MSQ and, you know, the expansion is coming out mid-June, so I definitely need to hurry to finish the Heavensward storyline. ONLY GOT TWO AND A HALF MONTHS.
(It was good, even if it did smash Onion head-canon into tiny little pieces. NO ONE TOOK IT SERIOUSLY AND WHO COULD EVEN COMPLAIN
cutscene
it did call back to End of an Era maybe a little too much but whatever, most characters don't still have lingering trauma from that, sorry Rana.)
Back to this again now. Since this is so (comparatively) short, it doesn't get to be part two.
What was I doing?
Ah, yes, sidequests.
lol I got in the car to drive it up to the gas station and of course hit X to accelerate.
I FAILED TO COMPLETE THE TURN. Noct, you're a shit driver.
I like that Prompto is just lord of the front passenger side. Ain't nobody displacing him. NEVER.
Anyway, now that we have gas again, SIDEQUESTS.
FIRST, ALL THE WAY BACK TO TAKKA.
Noctis confirmed to hate beans, dang, that was an impressive whine. EVERYONE IS GIVING HIM SHIT. ♥
Hrrrgggg turns out I played XIV just long enough to go back to obsessively hitting triangle to jump.
Prompto, this picture is awful. I'm sorry, I know you were excited for it, but THE GLARE. You can't even see anything.
He loves it. I guess some people do go through an EXTREME SUNFLARE phase.
Still the headaches, too. Hey, same, though. I've been nursing one all weekend. :')
How is Gladio reading so easily when the top's down.? Shouldn't the pages be flapping unbearably? He must be intimidating them into submission. I'm jealous.
Noct, you've asked if ebony is really all that good like twelve times. Honey. Please. I know this headache's getting to you, but...
So I wasn't quite looking at the screen as we reached the bean spot. ARE THOSE HORSES? Unicorns, rather. It was not a sound I was expecting.
WHICH OF YOU IDIOTS JUST PICKED A FIGHT WITH THIS ENTIRE HERD
PROMPTO WAS IT YOU
IT WAS SOMEONE WITH A GUN, IS ALL I'M SAYING
And apparently I gave lightning to someone, unless that's the horses.
ENOUGH ABOUT THE BEANS. SERIOUSLY. lol, oh, noct.
oh no, sania is
right there
I can't just NOT GO aaaaugh toads no whyyyy
PROMPTO,
STOP SHOOTING SHIT
aaaaugh there's an area like 10+ levels about me between here and the toad whyyy screeeee
FIRE
JUST BURN EVERYTHING
REEEEEEEEEEEEER
I can't believe that worked.
AIGHT WE KILLED THE
FROG
TOAD AND SOME MUCH HIGHER LEVEL MOBS.
LET'S LEAVE.
Ignis, we literally bought that recipe,
you didn't come up with anything.
Ugh, I guess I shouldn't rain on his parade.
i'm not getting quicker at this just you didn't send me to pick up frogs but to kill things
I've been watching Prompto walk into a wall for five minutes, guys, this AI is so good.
Man, please just admit you missed your turn.
GLADIO, YOU BULLY
He's got confusion on right okay so he just CLEAVES MY ENTIRE HP BAR AWAY I HAVE NONE NOW and then asks, "where'd you learn
that one
, Noct?" MATE. FIGHT ME.
I really enjoy when I'm walking around after killing stuff or whatever and just trip over my chocobo. Every time it's just an exciting surprise! Hello, bird! I love you!
Oh, carbuncle's in the photos again. I don't recall seeing him here, either.
*picture of Gladio*
Prompto: I LIKES!
Gladio: I know.
Subtle, guys.
Shit, I'm already up to 86 photos.
WHY ARE WE SITTING ON THE ROOF.
What does Prompto want. W-what dialogue do I choose, oh no. WAIT AND MAYBE HE TALK? Or....??
IDK SMALL TALK IT IS
awww, such bros.
PROMPTO NO ONE HAS EVER QUESTIONED YOU BEING IN THIS PARTY NOOO
;o;
I'm'a pat him on his stupid loser head.
'send him to bed' though game plz noct is the one who needs naps all the time
though then I guess it'd make sense he might suggest it to someone else
Beans? No! LITTLE MEATBALLS. Dying, hahaha.
Does this guy ever run out of quests???
Man, Cidney is so in love with this car. She knows what's what.
Three-decade old wax, it's older than they are! So was that a - wait, so I know Noct is 20 (even though I constantly call him a teenager), and considering they were classmates it seems safe to assume Prompto is about the same, but Ignis and Gladio are older than that, aren't they? Don't they have to be?!
I guess maybe they aren't 30, but certainly older than 20.
Cidney, if you think for a second I'm putting stickers on my pretty car.......
Every time Noct complains about his headache I feel guilty for all this sidequesting. S-soon! Probably! Hopefully...?
OH SHIT I JUST LINKED MY TWITTER AND MY PSN ACCOUNT WE ALL IN TROUBLE NOW
I RELATE VERY STRONGLY TO THIS PICTURE (from today/justnow):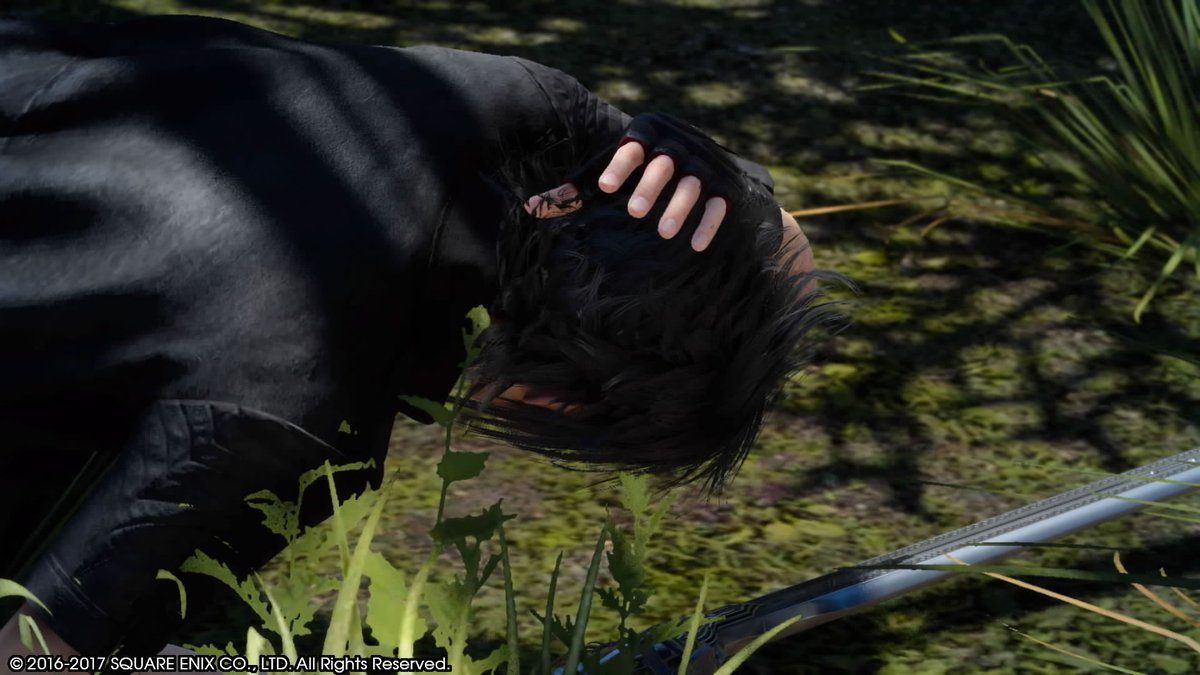 Pretty sure I mentioned the diner went nuclear once? Yeah.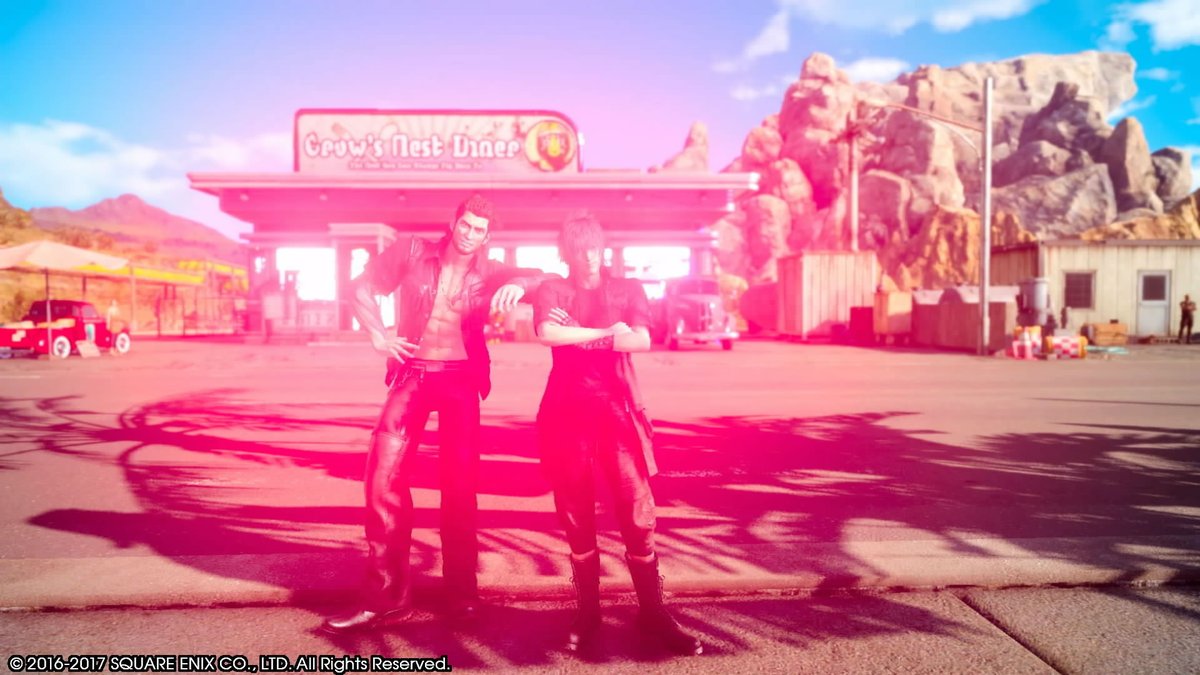 I
definitely
mentioned that Prompto caught Noct running the hell away from the car when Ignis stopped for the raining Imperials.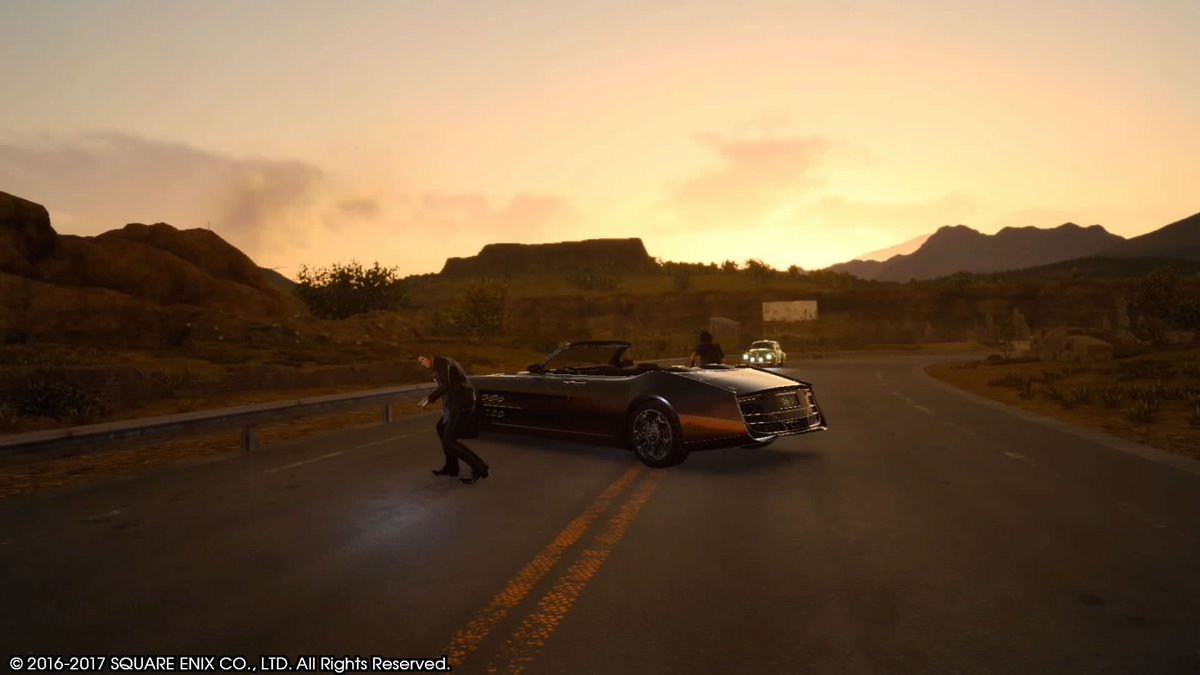 THE MOUTH. SO HUGE. WHY.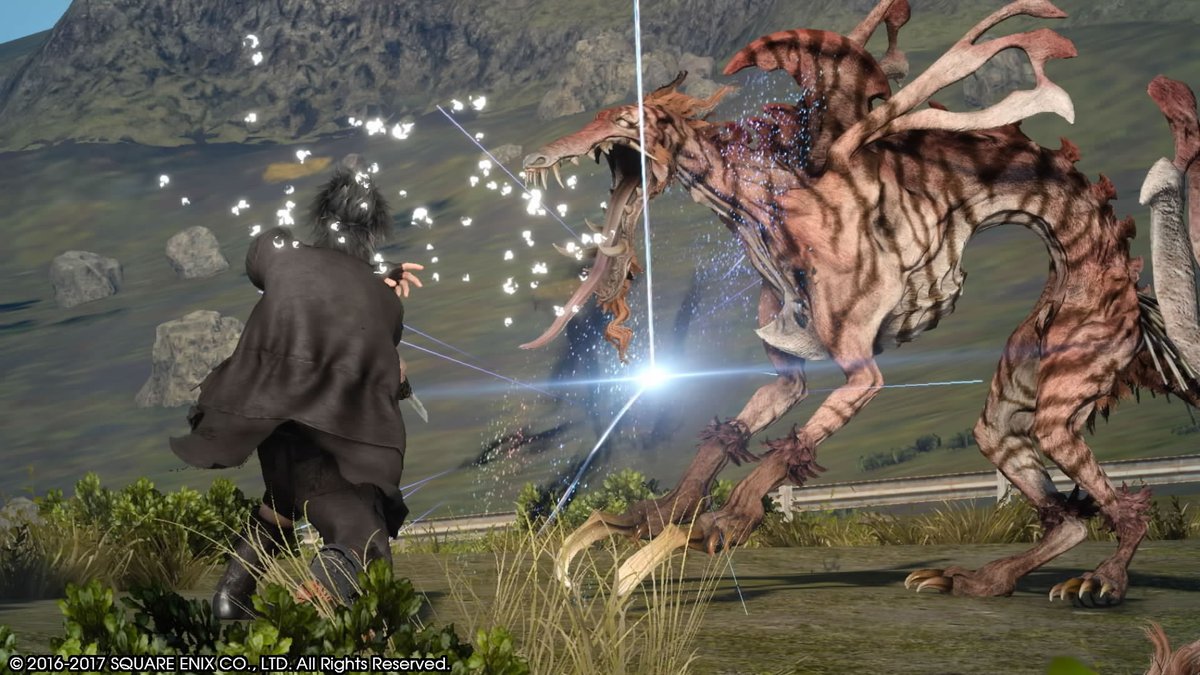 Does he ever do anything other than photobomb? (edit: apparently he only does stuff in easy mode. Disappointed! Can't you adjust difficulty? Maybe I'll do that, I wanna see himmmm he's so cuuute)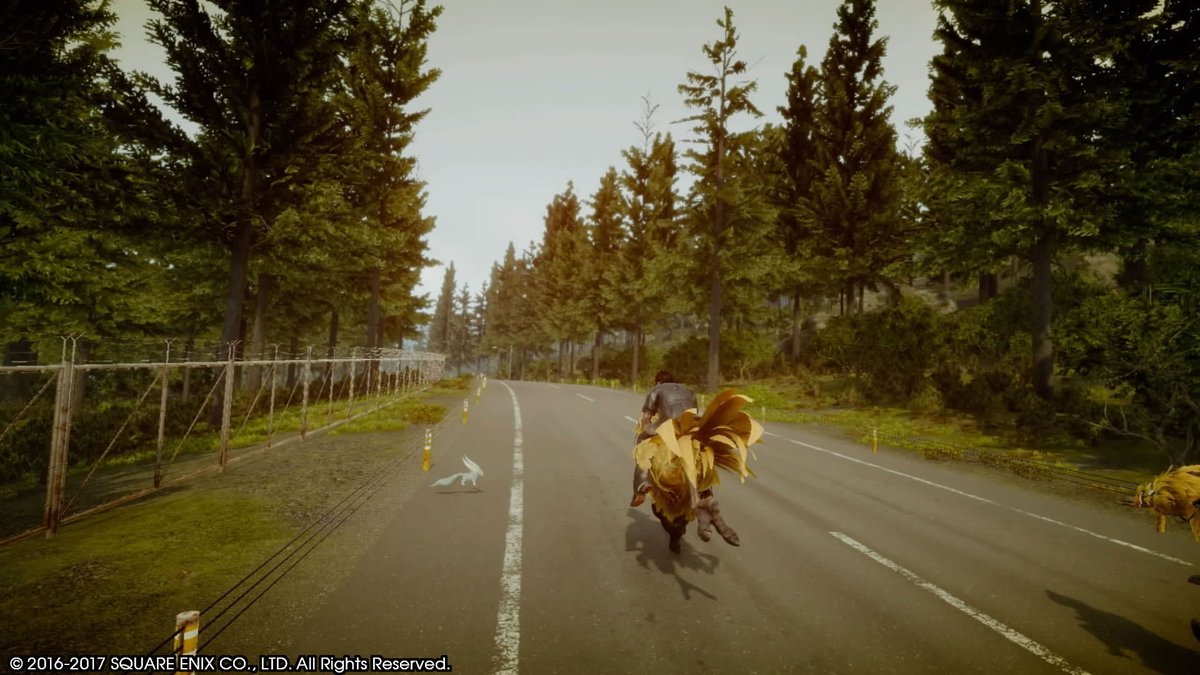 Idk why Ignis is glowing, I saved this because Noct's faceplant in the corner (check the boot) cracks me up. I'm rly good at this game, guys.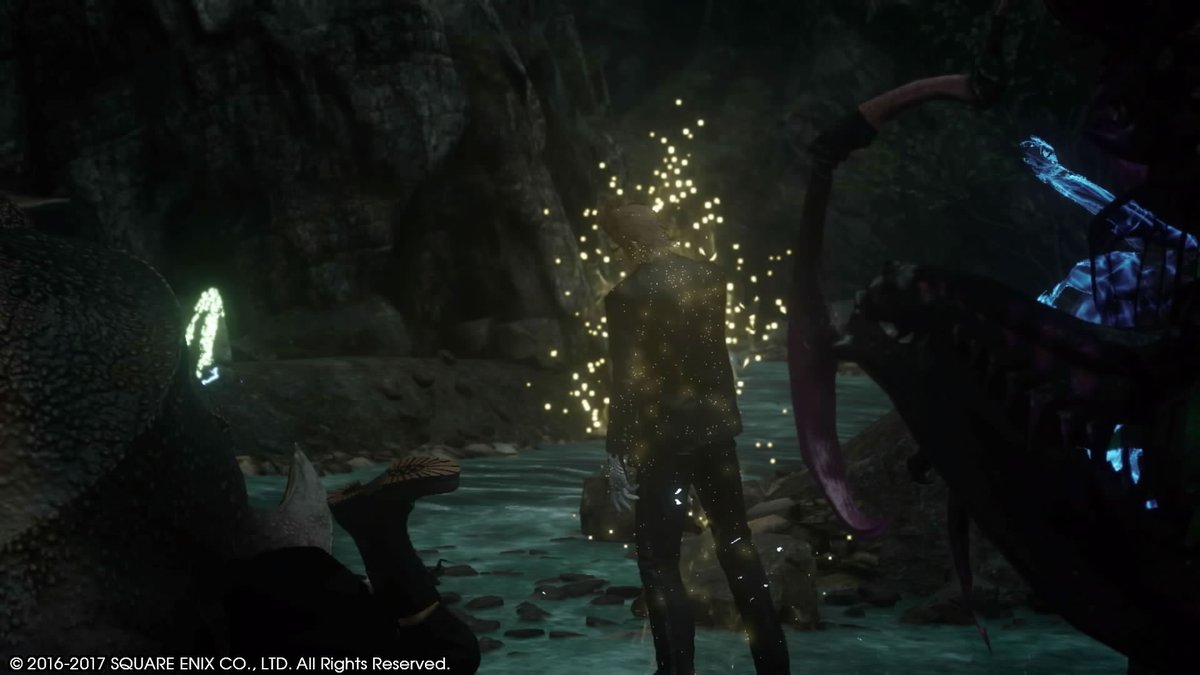 OKAY UH.
ANYWAY.
I was gonna go take some suspicious pictures for that dude with the METEOR shirt.
PROMPTO, WE HAVE BEEN. OVER. THIS.
TAKE PICS OF EVERYONE.
I CAN HEAR IT DISAPPOINTS YOU WHEN I SAY I DON'T CARE BUT I REALLY LIKE THE GROUP SHOTS.
Woaaaah, what's this huge thing?! IGNIS STOP THE CAR - we're going down there.
Oooh, Kujata! NICE. "Only" level 58, that's probably a clean one-shot.
Iiiiiii guess we'll find out, since those dimwits just attacked him.
I'm'a watch from back here, have fun, guys.
IGNIS IS TRAMPLED, BYE IGNIS
BYE GLADIO
PROMPTO SURVIVES BY NOT BEING STEPPED ON BEFORE I FLED THE COMBAT FIELD.
Anyway, back to whatever we were doing.
Driving to town. Yes.
Gladio is reading and NOCT IS SITTING ON THE BACK END OF THE CAR AGAIN FOR GOD'S SAKE SIT DOWN BUCKLE UP
THANK
YOU.
Shirtless Wonder wants to know why Prince Naptime won't take his shirt off if its so hot.
I HAVE MUSCLE. .... YOU CAN'T SEE IT.
5k not bad, and he's got another. Sure, there was no ambush. Why not.
Aw, delivery boys. The stuff we got sent to buy isn't here because the truck fell over. SO NOW WE GO TO THE TRUCK. What a circus, haha.
But first, naps. For them AND me.
Aw, I'm kinda disappointed Prompto didn't get Kujata. (Yes, yes, I know I could have taken the photo, but I like seeing what he gets on his own. I'm assuming the thing isn't going anywhere.)
Man, you know what I'm really excited about screencaps I'm posting this even though it's not much.
I've just been told that Chapter 3 is sort of the equivalent of XIII's chapter 11, so no wonder it's SIDEQUESTS FOR DAYS over here.